The Maine CUs' Campaign for Ending Hunger
People Helping People since 1990 with over $9.6 million raised to combat hunger in Maine.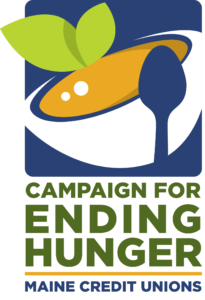 Cooperation Works
$832,332.62 raised in 2019 – a new record.
100% of all funds raised stay in Maine, and go directly to ending hunger.
Largest, non-hunger organization-based, philanthropic fundraising effort to end hunger in Maine.
303 non-profit hunger-related organizations in the state supported in 2019!
Signature social responsibility campaign for Maine's credit unions.
The Maine Credit Unions' Campaign for Ending Hunger is a 501(c)(3), which means all contributions are tax-deductible! 2020 marks the 30th year of the Campaign. For more information contact Tim Brooks at 800.442.6715, ext. 298 or Jen Burke at ext. 295.
2019 Campaign Highlights
Over $20,000 in food donations were collected
Our 18th Annual Ending Hunger Walking & Awareness Tour resulted in $10,500 being donated to hunger organizations statewide
We held our 18th annual Portland Sea Dogs and Maine Credit Unions Food Drive to benefit Good Shepherd Food Bank
Maine's credit unions gave $457,000 to food pantries around the state and provided $132,800 to meal programs
$68,612 donated to the Good Shepherd Food Bank
School backpack programs received $47,900 from Maine credit unions and $27,500 to University programs
Other programs supporting schools received $13,000
While every credit union in Maine contributed financially to the Campaign in 2019, the top seven credit unions in terms of dollars raised and per member contributions are annually recognized. Maine State Credit Union was the top credit union fundraiser with over $90,000. Gardiner Federal Credit Union had the highest per member contributions at $4.03 per member.
2019 Top 7 by Category
Total Dollars Raised
1st Place – Maine State Credit Union
2nd Place – Atlantic Federal Credit Union
3rd Place – Dirigo Federal Credit Union
4th Place – Maine Savings Federal Credit Union
5th Place – Bangor Federal Credit Union
6th Place – NorState Federal Credit Union
7th Place – University Credit Union
Total Dollars Raised Per Member
1st Place – Gardiner Federal Credit Union
2nd Place – Sabattus Regional Credit Union
3rd Place – Maine State Credit Union
4th Place – Monmouth Federal Credit Union
5th Place – Changing Seasons Federal Credit Union
6th Place – TIE – Bangor Federal Credit Union and Katahdin Federal Credit Union
7th Place – Maine Highlands Federal Credit Union