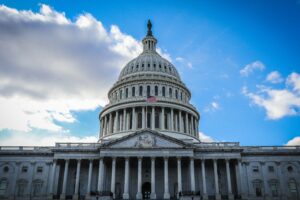 Last year marked the return to Washington, DC, for the annual CUNA Governmental Affairs Conference (GAC) and it was an exciting, memorable time for all who participated. Planning is already underway for the 2023 event, taking place February 26 – March 1, with a tremendous program and meaningful networking opportunities in the works.
We anticipate registrations to attend the 2023 GAC will be in high demand. If your credit union is interested in joining the League in our nation's capital, we encourage you to begin making your plans as soon as possible.
To assist, the League will be making a group hotel reservation for participating credit unions at the Renaissance Washington, DC Downtown Hotel. The rate for the rooms will be $344 per night, plus applicable taxes and fees.
If you wish to be included in the League's group reservation, please complete a brief survey by January 5, 2023. It is important that you indicate your precise arrival and departure dates on the survey. While it is easy to cancel a night at the hotel, it can be extremely difficult to add one.
A hotel confirmation will be sent to all attendees in mid-February. Reservations cancelled from December 17 to the day of arrival at the hotel are subject to be charged one night's room and tax.
Lastly, if your credit union plans to attend the conference, please also complete your registration on CUNA's website. A tentative schedule of events can be found here.

We hope you will join us for this important advocacy event. If you have questions about the 2023 GAC, please email Robert Caverly at rcaverly@mainecul.org or Kelley Souza at ksouza@mainecul.org.