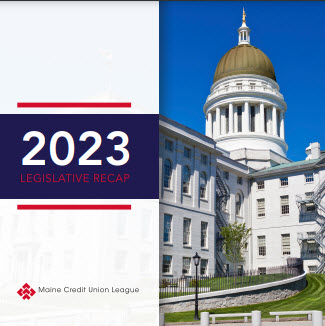 The 2023 Legislative Recap has been released and is now available to view and download on the League website. This comprehensive report covers the League's activity during the 2023 legislative session in Augusta and demonstrates the breadth and depth of our credit union advocacy. We encourage you to thumb through the report and check out the issue areas of engagement this past session, as well as quoted testimony provided by several credit unions.  
While not in session, our advocacy work has been focused on the launch of our CU Job Shadow Program, as well as our continued engagement with the Board of Real Estate Appraisers, Office of Cannabis Policy, and federal delegation. In June, the League submitted a letter to the Board of Real Estate Appraisers concerning the lack of qualified appraisers in Maine. We are continuing to work with our banking counterparts and other interested parties to push for progress in this area.
The League also met with Director John Hudak of the Office of Cannabis Policy to discuss how our two organizations can work together to positively impact the regulatory environment for cannabis banking in Maine. Congressional meetings for our upcoming Hike the Hill trip have also been scheduled, and we look forward to conversations with our federal delegation on the Member Business Lending Cap and interchange.