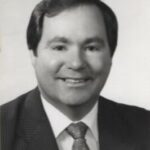 Katahdin FCU is remembering former State Representative Herbert (Herbie) Clark, a longtime volunteer who passed away on December 22. Herbie was deeply committed to the credit union movement, serving in the capacity of Chairman of Katahdin FCU's Board, and as a member of the League's Governmental Affairs Committee for several years. He also was a devoted public servant and will be remembered as a Vietnam War Veteran, legislator, town councilor, and Knight of Columbus, among other distinctions.
"Herbie's love of community and service to others is evident in all of the ways he served," said Tina Jamo, President/CEO of Katahdin FCU. "He will be missed by all of us at the credit union, as well as the people of the Katahdin Region."
The League joins Katahdin FCU in expressing our condolences to Herbie's family, friends, and colleagues. His obituary as it appears on Lamson Funeral Home's website is listed below. Services will be held for Herbie in the spring.
Former State Representative Herbert E. Clark of Millinocket went home to be with his Lord and Savior on December 22, 2022, at Millinocket Regional Hospital. He is survived by the Love of his life, Ellen; Son Joseph & wife Missy; Daughter Tammi McNeely & husband Gary; Grandsons Nathaniel & Michael; Granddaughters Maggie & Casey; Great Grandson Lane; Brothers Ludgie & Wife Mary, Stephen, Jimmie, Michael, and Sisters Elizabeth & Shirley and nieces and nephews. He was predeceased by his parents, Edward & Loretta. Brothers William, Arthur, and Sister Deborah and nephews.
He graduated from Stearns High School and attended the University of Maine at Orono. He was a veteran of Vietnam. He retired after working 41 years and 11 months at Great Northern Paper. He served 12 terms in the Maine House of Representatives. He was a past chair and board member of KFCU board of directors, and past chair and member of the Millinocket Town Council. He was a past grand knight and 4h degree of Knights of Columbus Council #680. Board member of Maine Avenue Manor and past board member of Millinocket Regional Hospital. A member of the AARP Millinocket, the Cancer Support Group, American Legion Post #80, VFW, DAV, and BPOE Lodge #1514.
Herbie most of all enjoyed his camp on Ambejejus Lake boating, swimming, fishing, and watching the beautiful sunsets and also enjoyed fishing at Nesowadnehunk Retirees Campground where he had a camper. Our family would like to thank Beacon Hospice, the nurses and staff at Millinocket Regional for the wonderful care and kindness given to Herbie. A Mass of Christian Burial will be celebrated in the springtime.