Ahead of the Volunteers' Conference, the League is pleased to announce that former U.S. Senator and Ambassador Scott Brown will headline a pre-conference session on Friday afternoon at 3:00 pm at the Samoset Resort. Brown will share his thoughts about today's political environment and current international events. He also will discuss his military experience and his time working in public office.
If you have not signed up to attend the Volunteers' Conference, taking place October 28 – 29, you must reserve your spot by the end of the day on October 21. To register, please visit the League's website.
About Scott Brown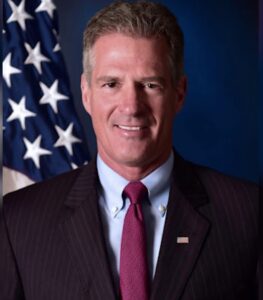 Known as a builder of political bridges with deep expertise in both the public and private sector, Scott Brown speaks from more than 30 years of experience as a diplomat, senator, military officer, trade negotiator, and bestselling author. As the former Ambassador to New Zealand and the Independent State of Samoa, he is considered an expert on all issues in the Indo-Pacific, including the U.S. relationship with China. In that region and beyond, Ambassador Brown brings high-level insights into the impact of geopolitics on trade and the business climate. He also shares an inspirational personal story of rising out of abuse and troubled beginnings to achieve success against all odds.
Completing his term as Ambassador, Brown has returned to his native Massachusetts to serve briefly as the President, CEO and Dean of New England Law/Boston. Prior to his ambassadorship, he was Senator of Massachusetts, elected as a Republican in a 2010 special election to fill the term of the late U.S. Senator Ted Kennedy. During his time in the Senate, Brown was considered its most bipartisan member, drawing upon many years of experience as a Republican in Democrat-majority Massachusetts politics. As Senator, Brown was the ranking member on the Armed Services Committee and the Committee on Homeland Security and Governmental Affairs. He also served as a member of the Veteran's Committee and the Committee on Small Business. In 2011, he reached the top of the New York Times Best Sellers List with his powerful memoir, Against All Odds: My Life of Hardship, Fast Breaks and Second Chances.
In June 2017, Brown earned overwhelming bipartisan support and was confirmed by a 94-4 vote as the U.S. Ambassador to New Zealand and the Independent State of Samoa. During his term, Ambassador Brown focused on combatting terrorism, China's expansionism in the Indo-Pacific region, enhancing trade opportunities, strengthening the United States' "Five Eyes" relationship in New Zealand, expanding cooperation in the Antarctic, and human, drug, and child trafficking prevention. He also led the United States Embassy through the Christchurch mosque attack, the White Island volcano eruption, and the repatriation of American citizens during the COVID-19.
Ambassador Brown's career in public service began as an Assessor and Selectman for the Town of Wrentham, Massachusetts. He served as Massachusetts State Representative for the 9th Norfolk District for seven years and as State Senator for the Norfolk, Bristol, and Middlesex District for five. For nearly four decades, Brown served in the enlisted and officer ranks of the Massachusetts and Maryland National Guard. He retired as a Colonel after three years as the Deputy to the Chief Counsel, to the Chief of the National Guard Bureau at the Pentagon.
Ambassador Brown's private sector experience includes working for the Boston law firm Nixon Peabody, LLP, focusing on Mergers and Acquisitions and Governmental Relations. He also served on numerous boards to include the Board of Directors and as an advisor to 1st Alliance Lending, LLP, an organization aimed at helping low-income citizens in their homes. He works as a contributor and occasional host on FOX and appearances on FOX National News and Fox Business. He is a Board of Advisor to the Bi-Partisan Housing Coalition – Washington, DC and is the Chairman of the Competitiveness Coalition and on the Board of Directors for Focal Point Energy Company.
A highly engaging speaker known for connecting with audiences through his eclectic life stories, Ambassador Brown is also a competitive triathlete, musician (he played guitar with Hall of Fame Inductees Cheap Trick seven times), and Boston College Law School graduate. Scott has extensive experience in coaching youth sports, especially basketball where he was recently named the Head Girls Varsity Basketball Coach at Amesbury High School.
Ambassador Brown is married to Gail Huff Brown and they are the proud parents of Ayla Brown, Season 5 Finalist of American Idol, Co-Host of Country 102.5 in Boston, MA, and mother to Barret Scott and Dr. Arianna Brown, head veterinarian at Portsmouth Veterinary Clinic in Portsmouth, NH and mother to Cecilia Gayle.