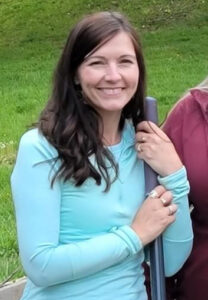 The Jeannette G. Morin Award is presented each year at the League's Annual Convention to an outstanding credit union employee who has been nominated by their peers. This year, the League is pleased to congratulate Christina Carter, EVP – Chief Lending Officer from Midcoast FCU, on receiving the 2023 honor! Carter was nominated by her President/CEO, Joe Gervais, because she displays the credit union spirit in everything she does, both professionally and personally.
"Christina has long been a credit union champion," described Gervais. "She is passionate about the express purpose credit unions serve within communities. As an industry veteran that now serves as Midcoast's Executive Vice President and Chief Lending Officer, she has demonstrated this commitment by bringing financial wellness to both employees and members."
Carter's commitment to the community stretches far beyond the financial well-being of Midcoast FCU's members. She also serves on the Board of Directors for Freeport Community Services, as the Chair of the Maine Credit Union League MEWA Health Insurance Plan, and is a founding member of the Maine Global Women's Leadership Network sister society. As Gervais mentioned, "these volunteer connections show her desire to build up and support others."
With roots in human resources and employee development, along with her ample experience across many parts of the organization, Carter is a versatile and trusted advisor for her credit union. Her colleagues appreciate her thoughtful approach to problem solving and her consideration of the overall impact her decisions have on both the members and the organization. She is an empathetic leader who shows care and concern for her team and community.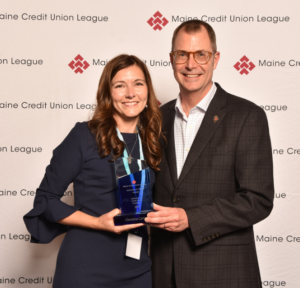 "She values interpersonal relationships as a way to engage and support individuals and the local community," expressed Gervais. "Christina is the embodiment of the People Helping People philosophy. Beyond the list of impressive titles and leadership roles, what is most remarkable about Christina is her quiet confidence, humility, and selflessness in all that she does."
Gervais explained how Carter's "commitment to education for herself and others is paramount." At every place she has worked, Carter has advocated for member education programs, community outreach efforts, and employee training programs. She is a lifelong learner who continues to find ways to grow and expand her skills both in and out of the workplace. Her future-focused mindset has her always on the lookout for new initiatives that would help members find even more financial success and serve the underserved. Specifically, the efforts she has led with the Maine State Prison population and the Bridges Out of Poverty program allow her and the credit union to better understand the systemic impact of economic hardship, allowing them to meet member needs in new and impactful ways. Carter cares about building a brighter future for all, and in her mission to cement that she remains "a pillar within the credit union community."
"I can think of no other person that truly embodies the credit union spirit as much as she, and I believe Christina is so deserving of this recognition," Gervais said.
Congratulations, Christina, and thank you for all that you do in your credit union and your community. You make a big difference every day, and your credit union family across the state appreciates you for it!