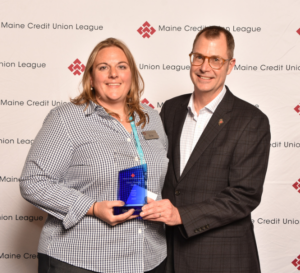 The Diane L. Oceretko Award is given to the person that best represents the credit union philosophy of People Helping People, and at the awards dinner at last Friday's Convention, Erin Dunn-Kimball, Marketing Specialist, ecstatically accepted the 2023 Diane L. Oceretko Award! Dunn-Kimball was nominated by her colleagues at Community CU for showing up and caring about her colleagues, the credit union's members, and the community in a way not many other people do nowadays.
Dunn-Kimball joined the credit union industry in October of 2019, and when she interviewed with Betsy Sibley, Chief Marketing Officer, she stated she "was looking for a mission-driven organization where her gift of always helping others could be put to good use." Sibley explained in Dunn-Kimball's nomination how "she is truly a person you want to align yourself with, as her energy and supportive nature is infectious!"
Dunn-Kimball has played a key role in the success of many of Community CU's events. Her passion for serving her community has found her volunteering to help with (if not organize entirely) nearly every event the credit union holds or participates in. Sibley explained how some of this is simply a result of her role as Marketing Specialist, but mostly it is due to her commitment to her community. She is even a dedicated member of the employee-led Ending Hunger Committee at Community CU.
She helped launch a fundraiser at the credit union called the Signature Soup Challenge that partners with local businesses who sign up to donate a portion of their "signature" soup, chili, or chowder sales during the timeframe of the Challenge to support the Maine Credit Unions' Campaign for Ending Hunger. Dunn-Kimball designed most of the materials to promote the Challenge and coordinated most of the participating community partners. The Signature Soup Challenge celebrated its third annual year this past February.
Dunn-Kimball also secured a $1,000 win and directed the funds to the Campaign for Ending Hunger as a result of submitting an idea to the #ILoveMyCreditUnion national social media campaign and winning. With the credit union's Lewiston branch sitting in the second poorest census tract in the state, bordered by the first and third poorest, food insecurity is a major concern for their membership. Kennedy Park is near the Lewiston branch, sees ample foot traffic, and is a known location for unhoused individuals to congregate in the summer months, so Dunn-Kimball designed a Free Lunch in the Park day coinciding with #ILoveMyCreditUnion Day on July 29, 2022. Through community partners, Community CU was able to keep the net costs under $100 and served over 200 steamed hot dogs.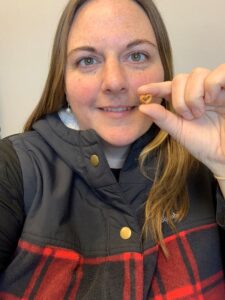 "Erin worked with many of the donor partners, rallied our staff, and created the social media posts promoting the free lunch event, as well as set up and served for four hours in 90 degree weather in July," explained Sibley. "If you asked her today, she'd share so many special moments from that day. Erin has a gift of connecting with others. She sees everyone as individuals and equals, greets them with empathy and understanding, and it was noticeable to all her teammates on this day especially."
In 2022 alone, she also participated in Community Recycle Day, Community Block Party, multiple parades, and many more events.
Recently, Dunn-Kimball was approached by an elderly member. She listened and identified the situation as elder abuse. Quickly, she used her resources to connected with state agencies. Instead of just handing over a phone number, she took the time to support, monitor, and assist throughout the entire process for this individual, someone who was not even a member of the credit union. Everything was eventually returned to the person and legal services assisted in separating him from the abuser.
"This took a lot of time, patience, and research for Erin to assist with but that did not deter Erin," said Sibley. "She is generous with her time, her resources, and her knowledge to help others which is why she is the first person many of our team think of when we think of the People Helping People philosophy of the credit union movement. 'Helping one person might not change the world, but it could change the world for one person.' This anonymous quote is how Erin lives her life. She works to provide a better place for our community and everyone in it each day."
Congratulations, Erin, on a well-deserved award, and thank you for everything you have done and continue to do for your coworkers, your members, and your community! Your Maine credit union family will always be cheering you on.