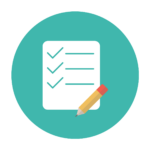 (From the Financial Literacy Blog) -If someone doesn't have a credit union or bank account, it's likely they're relying on check-cashing services and piggybanks—all while missing out on the many benefits of managing their money with checking and savings accounts at a financial institution. At a credit union, the money deposited into individual accounts is federally insured up to $250,000. People have convenient access to their money through ATMs, checks, cards, and online and mobile banking. An account also can help people establish credit and secure loans at their financial institution. But if someone has never had an account at a credit union or bank, what might they need to establish one?
Government-Issued Identification
Almost all credit unions and banks require prospective accountholders to present a piece of current government-issued photo identification (ID) when opening an account. The photo ID verifies the person is who they say they are and allows the financial institution an opportunity to match their name to their face. The most regularly-used government-issued photo ID is a driver's license. However, if someone doesn't drive, they can head to their local department of motor vehicles (DMV) and apply for a state-issued ID. People don't need to pass a test to get one, unlike with a driver's license. People simply need to bring a birth certificate or valid passport and proof of address to the DMV. Other forms of government-issued IDs accepted when opening an account include a valid passport or U.S. military identification card. If someone simply doesn't have a U.S. or state government-issued form of ID, some financial institutions may accept foreign passports and Consular IDs, such as the Matricula Consular card.
Social Security Card
When opening an account at a credit union or bank, it's likely the person will be asked for their Social Security number (SSN). If the person hoping to open an account has a Social Security card, they should bring that so the financial institution can verify the document. Financial institutions need your Social Security number so they can report any interest income earned to the IRS. If someone doesn't know their SSN and doesn't have a Social Security card, they can use their Individual Taxpayer Identification Number (ITIN) instead. If someone doesn't know their ITIN or needs one, they can contact the IRS at 800-829-1040.
Proof of Address
While some credit unions and banks may allow people to open accounts using a post office box, it's common for the financial institution to ask for proof of address. A proof of address is something that verifies a person's current address, such as a recent utility bill. For example, a cable, water, electricity, internet, or cell phone bill. If someone doesn't have a physical address, they should ask the financial institution if they can use a homeless shelter as a physical address or use the address of a next of kin.
An Initial Deposit
In addition to the documents used to verify their identity, a person may need to provide a minimum initial deposit when opening a checking or savings account. Traditionally, this amount ranges from $5 to $25. The amount will vary at each institution, so it's important for people to check prior to opening their account.
After pulling together the documents needed to open a checking or savings account, individuals can take advantage of all the benefits of managing their money at a financial institution. If you're looking for a community-focused financial institution as local as you are, use the credit union locator here.