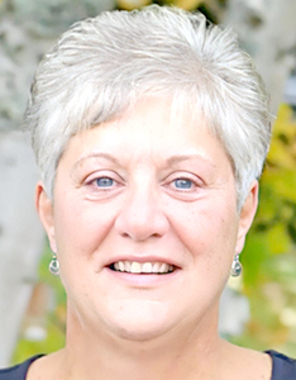 Acadia FCU is mourning the loss of their friend and former board member, Kathy Roy. Kathy served on Acadia FCU's Board of Directors from 2000-2017. Her business expertise helped to guide the credit union through four mergers, unprecedented growth, and contributed to making Acadia FCU the organization it is today. She also was an active community leader in the St. John Valley.
The League joins the team at Acadia FCU in expressing our condolences to Kathy's friends and family. The text of her obituary as it appeared in the Bangor Daily News is below:
FORT KENT – Kathryn A. (Paradis) Roy, our beloved wife, mother, and Mem, went to be with the Lord on July 5, 2022, at the age of 63, after a long battle with breast cancer since 2017. She was born in Fort Kent, Maine, to Roger and Claudette (Marquis) Paradis on June 4, 1959.
After graduating from Fort Kent Community High School in 1977, Kathy attended the University of Maine at Farmington for a semester until her father asked her to come fill a vacant bookkeeper position at the family business known as Paradis' IGA. Kathy worked her way up the ladder and became the manager of the store which is now known as Shop N' Save. She then became a co-owner of six stores which were located in Fort Kent, Madawaska, Brewer, Caribou, Houlton and Calais. Kathy was the director of the corporation representing the Roger Paradis family and also was the president of the corporation.
Kathy volunteered many hours in helping out her community as a Director of Acadia Federal Credit Union, the University of Maine at Fort Kent Board of Visitors, Northern Maine Medical Center Board of Trustees, and director/secretary at the Fort Kent Golf Club. Kathy was also awarded the "2009 Fort Kent Woman of the Year" award by the Fort Kent Business and Professional Women's local organization. Kathy was an avid golfer with many tournament wins and also enjoyed playing softball and volleyball in her earlier years of adulthood. She also enjoyed traveling with her friends and family to many places but her happy place was at her camp on Eagle Lake watching her children and grandchildren enjoying themselves.
She is survived by her mother, Claudette Marquis Paradis; her loving husband of 42 years, Bertrand Roy; her son, Jason Roy, wife, Jenna and their children, Landon and Brielle Roy; and daughter, Katelyn Roy Dubois, husband, Tyler, and their children, Owen and Blake Dubois; her brothers, Michael, Daniel (Bernadette), Paul (Susan) and sister, Donna (Scott). She was predeceased by her father, Roger Paradis; and sister-in-law, Louise Audibert Paradis.
Many thanks go out to Kathy's husband, daughter, and daughter-in-law who took great care of her making it possible for her to stay home until her passing. In accordance to Kathy's wishes, there will not be any calling hours but invite you to a Mass at the St. Louis Church on Saturday, July 9, 2022, at 10 a.m. In lieu of flowers, donations may be made to Edgar J. Paradis Cancer Fund. Arrangements have been entrusted to Lajoie-Daigle Funeral Home.
For online condolences please visit lajoiefuneralhome.com.