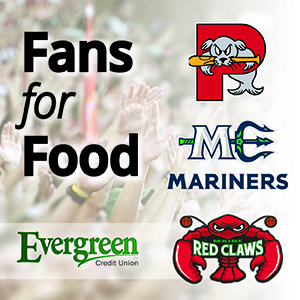 The Maine Mariners, Portland Sea Dogs, and Maine Red Claws, in collaboration with Evergreen CU, have joined forces to launch the Fans for Food campaign to benefit Good Shepherd Food Bank. Fans of these local sports teams are encouraged to lend their support to Good Shepherd Food Bank by making an online donation.
"We don't want our neighbors in the community wondering where their next meal is coming from," said Adam Goldberg, Maine Mariners Vice President of Business Operations. "We are thankful to Evergreen Credit Union and Good Shepherd Food Bank for creating this virtual food drive."
Good Shepherd Food Bank provides approximately 68,000 meals to Mainers a day. This number is expected to rise as the COVID-19 public health crisis continues.
"It is the least we can do to help our community and our fans who have supported us," said Dajuan Eubanks, Maine Red Claws President.
The Maine Mariners and Maine Red Claws suspended their seasons early due to the COVID-19 outbreak in the region. Opening Day for the Portland Sea Dogs is currently on hold.
"The Portland Sea Dogs are happy to support such an important cause during this challenging time we all face," said Portland Sea Dogs President Geoff Iacuessa.
Every $1 raised through this effort will help Good Shepherd Food Bank provide four meals to a Maine family in need. Jason Lindstrom, CEO of Evergreen Credit Union and a campaign co-sponsor, believes Fans for Food demonstrates the value of businesses working together for the common good.
"We are always looking to work with our community partners to better our community," said Lindstrom. "We knew our partners would jump at the chance to work with us and provide help to our neighbors in need."