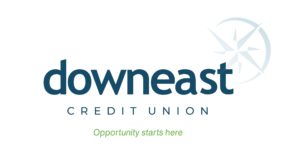 (Baileyville, ME) – In 1941, St. Croix Federal Credit Union was established with the mission of "people helping people." Today, the credit union and its wholly-owned insurance agency announced that both organizations are launching a new brand with name changes to Downeast Credit Union and Downeast Insurance.
For nearly eight decades, Downeast Credit Union has been dedicated to serving its 20,000 members in Baileyville, Bangor, Belfast, Calais, Machias, Richmond, Topsham and Unity. Downeast Insurance has served over 3,000 clients for nearly two decades. The new Downeast brand reflects the history of both organizations as well as instilling commitment into the future to strengthen products, services, technologies, and branches.
The leadership of Downeast worked collaboratively with its membership, team members and Board of Directors to redefine the organization's vision, mission and values.
Enhancing the wealth of our members and the communities we serve
Creating opportunities through accessible banking products that enhance financial wellness and allow members to live life to the fullest
Opportunity, Respect, Trust, Community, Education, Loyalty
"We look to the future with our new brand, while honoring our rich history," states Downeast marketing director, Kristie Libby. "Our rebrand involved assessment of data from membership surveys, team and Board member interviews, competitive analysis and situational analysis. This helped us define our motivation on prioritizing relationships and investing in the Downeast communities."
The Board of Directors at Downeast has been involved in each step of the process. Board Chair, Mason Pottle, adds: "Many values of our founders still hold strong today at Downeast, like the importance of greeting you with a smile and the value of a handshake. With a careful eye on our members' needs, DECU has made investments in our facilities and infrastructure to allow for growth and expansion to meet our members' needs long into the future."
Along with exceptional service, Downeast strives to offer competitive lending and deposit rates in a convenient and down-to-earth manner. They offer programs to educate and help members rebuild credit. Downeast is investing in new technologies that make banking effortless, giving you more time for family and fun. Their friendly team members and insurance agents are skilled in developing individualized plans to help you succeed in the financial journey of life.
"With this rebrand, Downeast is sharpening our focus on enhancing the wealth of our members and the communities we serve," said Joseph Moses, President/CEO of Downeast Credit Union. "Our future is bright and we are honored to be a key partner in achieving our members' aspirations and goals, and helping the Downeast community to live life to the fullest."
The new Downeast website has launched on April 20, 2019 and can be viewed at www.downeastcu.com and www.downeastinsurance.com.