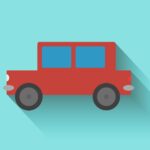 (From the Financial Literacy Blog) – It costs money for people to get around—whether it's by taking public transportation, renting a vehicle, using ride-hailing services, or buying a car. For those who choose to buy a vehicle, it's likely to be one of the most expensive purchases they'll ever make, with home-buying being the most costly. While the upfront cost of a car gets the most attention, it's important for people to know that there are additional costs that add up over time. Other than the interest rate on the financing, here are some additional costs people should consider before purchasing a vehicle:
Registration and Excise Tax
By law, everyone is required to register their vehicle annually in the State of Maine, regardless of whether the vehicle is purchased new or used. The yearly cost of registration is $35. When an individual visits their town office or city hall to make their registration payment, they're also charged an agent fee, with costs varying. The fee is usually around $5. These costs don't end there, however. To complete the registration process, car owners need to pay an excise tax on their vehicle. In Maine, the excise tax is based on the manufacturer's suggested retail price (MSRP) of the vehicle when it was sold new. In the first year that a car is registered, an excise tax of $24 per $1,000 of MRSP is charged. The price declines each year of the vehicle's life until its sixth year and subsequent years, where the charge is $4 per $1,000 of MSRP. For example, if someone purchased a new vehicle for $30,000 and registered it for the first time, they would pay the following:
$30,000 / $1,000 = $30
$30 x $24 = $720
Their total excise tax in the first year would be $720. If they were registering the vehicle for the sixth or subsequent year, they would pay the following:
$30,000 / $1,000 = $30
$30 x $4 = $120
Their total excise tax in the sixth or any subsequent year would be $120.
Insurance
Auto insurance protects people from having to pay the full cost of vehicle repairs, a replacement vehicle, or medical expenses following an accident. In Maine, it is against the law to operate a vehicle without paying for auto insurance. The average annual cost of auto insurance in the Pine Tree State is $294 for minimum insurance and $965 for full coverage. While full coverage is more expensive every year, having better insurance could save someone a lot of money in the event of a total loss due to theft or an accident.
Gasoline
While the cost of fuel may seem insignificant to some when they're purchasing a vehicle, it's important to understand the cost of gasoline can quickly add up. With fuel costs at nearly $4 per gallon across Maine, visits to the pump can quickly break a budget. On average, people are spending $131 on gasoline for their vehicle each month. For those looking to save on gas prices, read our blog here.
Maintenance
Keeping a vehicle running smoothly is an ongoing expense. Between oil changes, new tires, battery replacements, new windshield wipers, services, and more, car owners should budget for regular maintenance and upkeep. According to a study by AAA, a new car's routine maintenance and repairs could cost an average of $0.09 per mile. If someone drives around 10,000 miles per year, that comes to $900. The older the vehicle, the more costly it is to maintain. That is because parts wear down over time and need to be replaced more often than on a new vehicle.
Parking
If someone lives in the city, it's likely they'll need to factor parking costs into their budget. Monthly parking garage passes in Portland are around $140, with meters charging around $2.50 per hour. Car owners in rural areas likely won't have to factor these costs in, but anyone living or working in the city should plan for recurring parking expenses.
Know Your Costs
The bottom line is that the advertised price of a vehicle is just one consideration when determining the true cost of car ownership. Adding up the cost of registration and excise tax, insurance, gasoline, maintenance, and parking can help people get a better sense of the true cost.
If you're looking for an auto loan or want help budgeting for a vehicle, contact your local credit union for assistance.