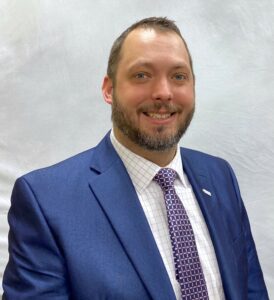 The County FCU is pleased to announce that Dennis Rogeski has been promoted to Retail Services Manager, Northern Region.
"Dennis joined us in 2014 as an indirect loan officer and was promoted to Manager of the Indirect Department at the Caribou branch in 2015," said Dan Bagley, Executive Vice President at The County FCU. "With this current promotion, he will oversee all retail operations of our northern branches located in Aroostook County."
Rogeski graduated with a bachelor's degree in business administration from the University of Maine at Presque Isle and is a graduate of the Young Professionals Institute. From 2006 to 2010, he served in the United States Air Force. He received the Army Commendation Medal and the Airman of the Year Award in 2007 for his service in Afghanistan with the United States National Support Element.
"Congratulations to Dennis on this promotion," Bagley continued. "Dennis will assume a strategic role in the management of branch operations. His primary day-to-day responsibilities are to oversee and monitor the quality of services to members through branch managers, member service representatives, and head tellers, achieve the organization's branch-related goals and objectives, and participate in the development and implementation of organizational strategic plans. Overall, Dennis' responsibility will be to increase the satisfaction of our members' experiences with improved delivery of our products and services through the branch network, community outreach, and business development."
"I am honored to take on this role with The County FCU," said Rogeski. "As a lifelong resident of Aroostook County, I recognize the benefits of living, working, and raising a family here. Credit unions are known for the slogan, People Helping People. This role will allow me to focus on that, while leading a team of credit union professionals in Aroostook County with the highest levels of integrity and member service. We will be working together to provide our members and communities with the best products, services, and education they deserve from their local financial institution."
Rogeski resides in Fort Fairfield with his wife Tosha and two daughters.