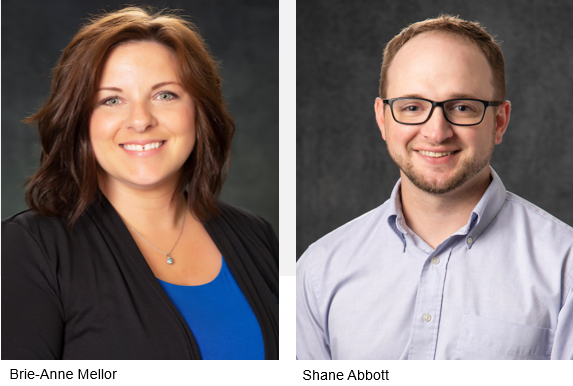 Maine State CU is pleased to announce the promotions of Brie-Anne Mellor and Shane Abbott. Mellor is now the Senior Vice President, Chief Lending Officer and Abbott is the Senior Vice President, Chief Retail Officer. In their new roles, they will work with the other senior leadership team members to drive the organization's continued growth. Both will be reporting to Stephen Wallace, Maine State CU's incoming President and Chief Executive Officer.
"Brie and Shane have been key players in the organization's growth over the past several years," said Wallace. "They have stepped up to lead without any hesitation and demonstrated the ability to inspire and grow their teams simultaneously."
Mellor began her career on the teller line 20 years ago. During her tenure at Maine State CU, she has continued to accept any challenge presented. In 2018, she led the project team on the introduction of MeridianLink, an online direct-to-the-member lending tool. She created the first online lending team responsible for helping members access the credit union's products through digital banking. In addition, she also has served as a financial services representative, loan officer, assistant branch manager, and loan servicing supervisor. She was promoted to Vice President of Lending in 2021.
Abbott started his career as a summer teller in 2007 and joined the finance team as an accounting clerk. He continued to move through the organization and worked as an indirect loan officer and teller supervisor. In 2018, he built a new internal call center, the eBranch, which takes over 300 calls a day. In 2021, he joined the operations team as Vice President, where he led the project team to convert the credit union's online and mobile banking system.
"In addition to being great leaders, both have been an integral part of the continued growth of the culture of Maine State Credit Union," said Wallace. "Brie and Shane understand the importance of a learning organization and have never hesitated to stop and develop their team along the way; this is an example of true leadership, and I am excited to have them as part of the senior leadership team."
Mellor, a graduate of the University of Maine Augusta, lives in Windsor with her husband and two kids. Abbott, a graduate of the University of Maine, lives in Farmingdale with his wife and children.