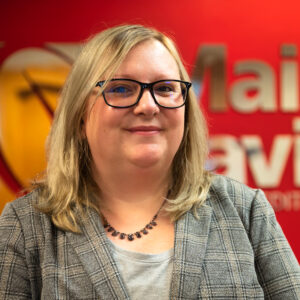 Maine Savings FCU is proud to announce that Kim Turner has accepted the position of Chief Operations Officer as of February 14, 2022.  She brings more than 20 years of experience in the financial services industry, all of which were either directly in or adjacent to credit unions.
Turner's journey to Maine Savings FCU began during her sophomore year of high school when she started working part time for Rainbow FCU (now Dirigo FCU). She later spent several years with Synergent. In 2013, she joined OTIS FCU as the Vice President of Operations and Compliance, and most recently served as the credit union's President and CEO.
"Credit unions are in my blood. I live by their purpose to serve people of all financial means, and I am so happy to be part of the Maine Savings family," said Turner. "The opportunity to work here came at just the right time in my professional career."
President Vanessa Madore who, until the addition of Turner, was also the acting Chief Operations Officer at Maine Savings FCU, is thrilled to have the opportunity to work alongside Kim.
"We are blessed, honored, and delighted to have Kim join the Maine Savings family," said Madore. "Kim's professional experience and knowledge are extraordinary. Her passion for credit unions is inspiring. Kim's leadership style embodies integrity, compassion, positivity, and transparency, all of which complement our culture."