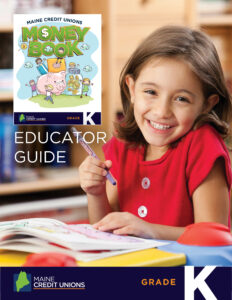 Providing financial education to Mainers of all ages and from all backgrounds is an important priority for both the League and Maine's credit unions. To make credit union outreach even more impactful, the League is pleased to launch a new curriculum program to teach younger Mainers about the importance of money management. Through the Maine Credit Unions' Elementary Curriculum, students can receive financial education lessons.
The program, which can be led by credit union staff or volunteers in an in-classroom setting, takes approximately one hour to complete. With the curriculum being turnkey, any credit union staff or volunteer can utilize the program and lead a lesson with little preparation—making it easier than ever to engage with area schools.
There is a unique Money Book and Educator Guide for each grade (K through five) that can be easily downloaded and printed. The Educator Guides are what credit union staff or volunteers will reference when leading lessons. Along with a script, there are prompts sprinkled throughout to encourage volunteers to walk around the room, or call on students to engage them in activities. The Money Books are workbooks that students complete as they follow along during a lesson plan. They're hands-on, engaging, educational, and fun! To make the curriculum easy to pick up and leverage in schools, printed versions of the Money Books and Educator Guides are the only materials needed to lead lessons.
The elementary lesson plans cover the basic concept of what money is and the purpose it serves, the difference between goods and services, identifying and counting money, differentiating between wants and needs, banks and credit unions, and more.
"While virtual education outreach has been effective over the past year, we recognize the tremendous value and impact of in-person engagement," said Jake Holmes, the League's Financial Literacy Outreach Coordinator. "With in-person opportunities being limited for some time now, schools are looking forward to the return of hands-on financial education. Now that credit unions have access to this turnkey curriculum, when it's safe to do so, it will be easier than ever to meet the needs of schools throughout the state."
To view the Maine Credit Unions' Curriculum and download the lesson plans, visit here.
A History of Financial Education in Maine
Maine credit unions have a long history of providing financial education. Between volunteering to teach youth financial education in schools and hosting Financial Fitness Fairs, credit unions across the state collectively expose nearly 20,000 Maine students to financial literacy and money management concepts each year. Having long believed the students of today are the community leaders of tomorrow, Maine credit unions recognize the importance of equipping youth with the knowledge and skills they need to help them manage their money effectively.
In recognition of Maine credit unions' efforts, the League has been an eighteen-time winner of the National Desjardins Youth Financial Education Award.
For any questions about the curriculum or the League's financial education efforts, email Jake Holmes at jholmes@mainecul.org.