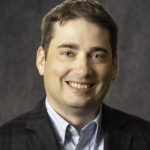 Tucker Cole, Chief Executive Officer at Maine State CU, is pleased to announce the promotion of Adam Kavanagh to Senior Vice President, Chief Operation Officer (COO). As the COO, Adam will oversee information technology and security, risk management, and the mobile and online banking platforms.  
 "Adam is an innovator at heart," said Cole. "He is always thinking of ways to improve the member experience process as well as how we can use technology to make it even easier for our members to do business with us. I am excited to see how our digital platforms transform under his leadership."  
 He has been part of the credit union movement for over ten years and has been at Maine State CU for six years. He started as a risk manager and was the operations manager before his promotion to Chief Operating Officer. In 2019, he became a Certified Credit Union Executive from the CUNA School of Management.  
 "Maine State Credit Union is a great organization that lives the credit union mission by putting people before profit," said Kavanagh. "I am thrilled to have the opportunity to work for a place that aligns so closely with my values. I looked forward to the challenges of this role and building an infrastructure that helps members have a better credit union banking experience."  
 Adam takes part in Maine State CU's Campaign for Ending Hunger program. In addition, he is an avid golfer. Adam lives in Freeport with his wife, Chelsea and their daughter Madelyn.