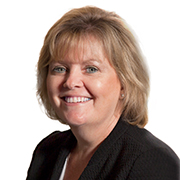 With only a week to go, this year's Annual Convention is shaping up to be a wonderful event—one that I know will have something for everyone who attends. Educational presentations, exhibits, and awards are certainly important components of our programming, but the most beneficial part of Convention is the opportunity to network with credit union peers, vendors, and staff from the League and Synergent.
The Convention will open on Friday morning with an inspiring and humorous presentation from keynote speaker Mark Mayfield covering the skills you need to achieve success. The day also will feature six sessions that will help credit union employees build a bigger life at work, attract and engage team members, create clarity, and advocate more effectively. Our program also includes presentations that will help board members build better compliance connections, and provide credit union Young Professionals (YPs) a chance to learn more about engagement opportunities with the League's various committees.
Beyond educational offerings, 40 vendors—including Synergent—will be in the exhibit hall to demonstrate how they can assist credit unions. From design and accounting expertise, to equipment, insurance, marketing, technology, and more, our vendors will surely grab your credit union's attention. Attendees also will want to find time to check out the items up for grabs at the CULAC Super 6 Silent Auction and the Ending Hunger Auction. Both auctions help support important credit union initiatives. On Friday evening, we will convene for dinner and to honor outstanding credit union social responsibility efforts, CULAC and governmental affairs activities, as well as exceptional credit union personnel.
Finally, the Convention will conclude on Saturday morning with an uplifting presentation, Courageous Leadership, Living a Life of Influence, given by Dan Meers. He came within inches of losing his life in an accident and will offer his unique perspective about the leadership lessons he learned on his road to recovery.
I hope you are as excited about this Convention as I am. It will surely be an inspiring and informational event with our credit union family.