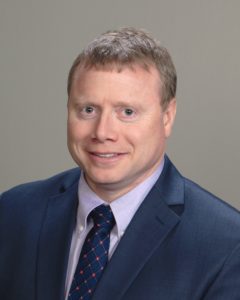 Baileyville, ME – The Board of Directors of Down East Credit Union (DECU) is pleased to announce the appointment of Joseph Moses of Calais to the position of President and CEO. The Board has worked with Joe for many years in various roles and recognizes him as an intelligent, engaging leader who will guide the credit union into the future. Mr. Moses adds, "I am honored to lead the valued team at Down East Credit Union and will continue our focus on providing new opportunities for our membership."
Mr. Moses has nearly twenty years of experience in the credit union industry, serving as a board member and various executive leadership roles. Most recently serving as President at Down East Credit Union since 2017, he has also held roles as CFO and Executive Vice President. Mr. Moses has played a crucial role in driving growth, implementing strategic plans and redefining the corporate culture at DECU. Over the last eight years, DECU has grown from $85 million in assets to over $200 million, providing good paying jobs to 90 team members across 8 locations. Joe's focus on "people helping people" has increased satisfaction among team members and enhanced loyalty among credit union membership.
Mr. Moses holds an Associate of Applied Science degree in Small Business Management from Washington County Community College in Calais, a Bachelor of Science degree in Business and Entrepreneurial Studies from UMaine Machias, a Master's in Business Administration degree from American Public University in Charles Town, WV, and is currently enrolled in a Doctor of Business Administration Program with California Southern University in Irvine, CA. He is also an honors graduate of the Credit Union National Association's Management School with a CCUE (Certified Credit Union Executive) certification, and a holds a Certificate of Completion in Leadership from the Washington County Leadership Institute.
Mason Pottle, Board Chair, stated, "Joe's commitment to the team and members of Down East Credit Union are strong indicators of his role as a leader. Not only is he highly educated and focused on financially propelling DECU into the future, he is a compassionate leader who does all he can to build satisfaction and loyalty. Joe will, without a doubt, continue to make a positive impact in the lives of our members and communities we serve."
Mr. Moses and his wife, Kim, reside in Calais with their twin sons and daughter. He adds, "Our family has strong roots in this region and we are proud to be active members of our community. I look forward to providing opportunities and creating additional value to all the communities Down East Credit Union serves."
Media Contact: Kristie Libby, Marketing Director klibby@downeastcu.com  or  207-214-6658