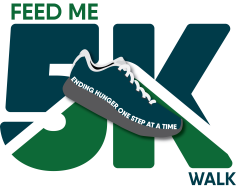 It's time to get your walking shoes on! Maine State CU's Feed ME 5K Walk to End Hunger in Maine is back in person and happening this Saturday at 9:00 am in Augusta. Show your support for the Campaign for Ending Hunger while taking a walk with your friends at the credit union.
"Although it will be a lower-key version this year, we are excited to finally be able to have this as an in-person event," said Stacey Dow, Co-Chair of Maine State CU's Social Responsibility Crew. "This will be a transition year for us after hosting virtual walks for the past two years. COVID has changed a lot of things. We are hopeful that many people will come out to show support and/or consider donating. We are very anxious to see people's smiling faces! We also hope to gain insight this year on how we may need to shift some things around for the future."
The credit union has been hosting this annual event since 2006 and has raised $500,000. Proceeds from the walk go directly to local hunger relief organizations to feed community members in need.
"This is our largest fundraising event of the year," said Dow. "And it is the only large fundraising event where most of our recipient hunger organizations participate and raise much of the money themselves."
To learn more about how you can walk with the Maine State CU team or make a donation, visit the credit union's website.
"Maine State Credit Union employees are excited each year to take part in an event that supports the credit union People Helping People philosophy," added Dow. "We also are extremely thankful for the businesses that sponsor this event. This year, our sponsors have generously contributed over $20,000 to help feed our hungry neighbors!"