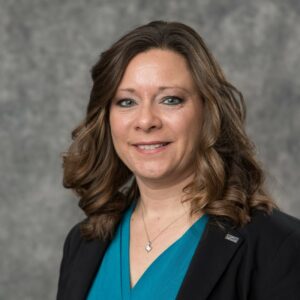 The League is pleased to announce that Renee Ouellette, President and CEO of UCU, is this year's recipient of the James M. Gratto Award. This award is presented annually to an outstanding credit union CEO.
"Renee is incredibly deserving of this special recognition and is the exact type of leader you want to work for," said League President Todd Mason. "She took over as President and CEO just a few months before the pandemic hit, and successfully navigated her employees and her members through an extraordinary time. I'm sure she had no idea how the world would change when she accepted the position, but she led with grace, determination, and a strong sense of service. Our credit union movement is stronger because she is in it!"
Renee has worked hard to establish a culture of communication and collaboration at UCU. According to her colleagues, this has created a positive shift at the credit union that has enhanced both the member and employee experience. In her award nomination form, her team stated, "Renee is unique in that she seeks input from everyone before making decisions. She is a participative leader who enjoys working in groups to come to a consensus as to what works best for everyone. She always makes sure to explain the "why" behind decisions that are made because she knows that when her team understands the "why," they can properly convey it to members."
Under her leadership, UCU accomplished many notable milestones. In addition to successfully rolling out a new brand logo and website, the credit union was recognized as a 2020 Best Places to Work in Maine and a Forbes Best-in-State Credit Union. UCU also was named 2020 Corporate Partner of the Year by Maine Campus Compact and 2020 Exceptional Community Partner by the University of Southern Maine.
While working hard to grow her credit union and improve the financial lives of her members, Renee also is deeply committed to propelling Maine forward. Earlier this year, she was appointed by Governor Janet Mills to serve on the Finance Authority of Maine Board. She also is a passionate supporter of Maine Credit Unions' Campaign for Ending Hunger and Special Olympics Maine.
As stated in her nomination form, "Renee is an engaging decisionmaker who is fearless, accessible, and has an easygoing personality. She demonstrates the value of teamwork, open communication, mutual trust, and community service through her communications, the policies she implements, and the initiatives she leads."
The League joins UCU in congratulating Renee on receiving this prestigious award!