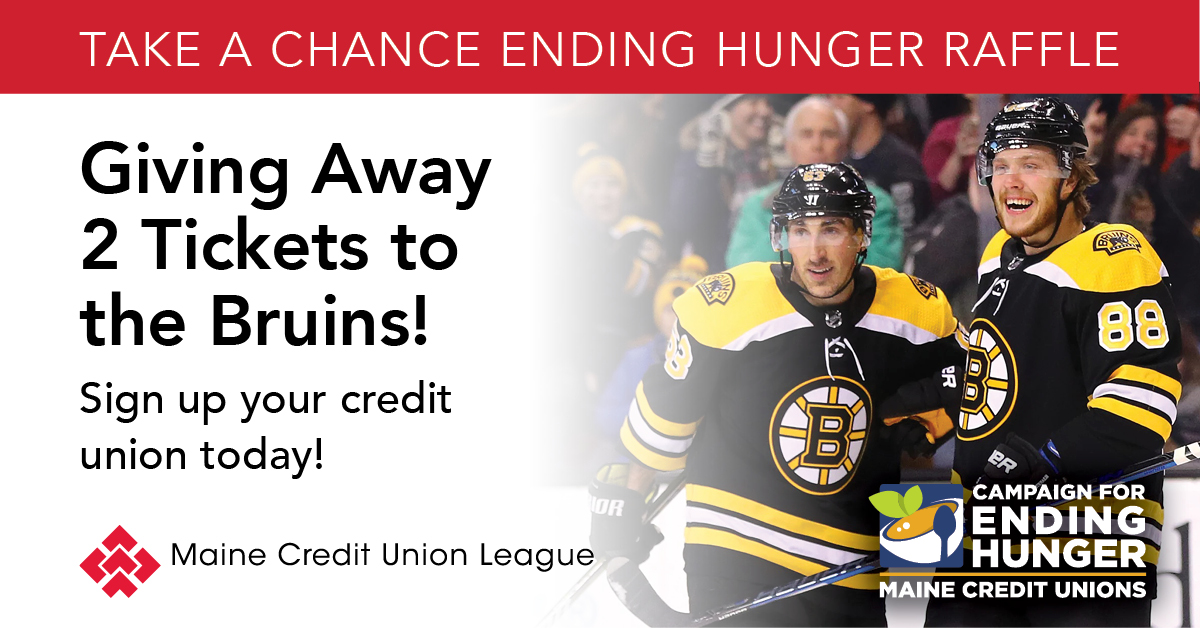 Hockey season is here! People across Maine are cheering on our beloved Boston Bruins and two lucky individuals will get a chance to root them on in-person. The League is coordinating a raffle for Bruins tickets with proceeds benefiting Take a Chance to End Hunger.
How Your Credit Union Can Participate
On a first-come, first-serve basis, credit unions will have an opportunity to order up to 50 tickets to sell at their credit union. Tickets should be sold at a price of $10/per ticket (no online sales). There are only 2,000 tickets available! $5 from each ticket sold will go toward the participating credit union's 2022 Ending Hunger fundraising total.
Tickets will be mailed to credit unions as requests are received. A PDF flyer and draft social media will be emailed to assist with advertising. Sold and unsold tickets must be returned together to the League by March 18, along with a check for sold tickets made out to: Take a Chance to End Hunger in Maine. Credit unions are only responsible for tickets sold.
The raffle winner will receive:
Two tickets to the April 16 game against the Pittsburg Penguins at 12:30 pm, roundtrip transportation on the Amtrak Downeaster departing from the Portland Transportation Center, and a $50 Visa gift card.
The winner must be 18 years or older and both guests must comply with the TD Garden's Safety Protocols:

Effective January 15, 2022, guests 12 and older will be required to show proof of vaccination to be allowed entry to the TD Garden. Proof of negative COVID-19 tests will no longer be accepted for entry. For more information, visit https://www.tdgarden.com/playitsafe
Selecting a Winner
The winner will be drawn on March 25 and the credit union that sold the winning ticket will be notified by phone. Gameday tickets will be distributed electronically. Details containing the transportation information to the game will be provided directly to the winner.
Requesting Raffle Tickets
The League has made requesting tickets easy. Visit the League's website to order tickets. Please be sure to specify the mailing address you would like your tickets forwarded to.
Questions?
Please contact Jen Burke at jburke@mainecul.org or Lauren McCallum at lmccallum@mainecul.org if you have questions or need assistance promoting this raffle at your branches.