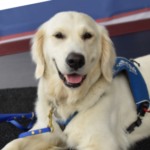 Every quarter, Five County CU employees raise funds for a local nonprofit. For their second quarter charity, the credit union is raising money for Little Angels Service Dogs and its Guardian Angels Prison Puppy Foster Program. The program works with inmates at the Maine Correctional Center, Bolduc Correctional Facility, Mountain View Correctional Facility, and the Maine State Prison to train future service dogs. Once trained, the dogs help people with disabilities live more enriching, independent lives.
Because it costs more than $38,000 to train a single service dog, Five County CU is selling raffle tickets at its branches to raise money for the organization. The credit union will be giving away five dog themed baskets and providing one lucky grand prize raffle winner a one night stay at the North Colony Motel and a puppy play date at Little Angels' Bartlett, New Hampshire training facility.
If you want to support this worthy cause and help Little Angels Service Dogs "change lives one dog at a time," visit a Five County CU branch soon to purchase a raffle ticket. The fundraiser will conclude with a drawing on June 30.