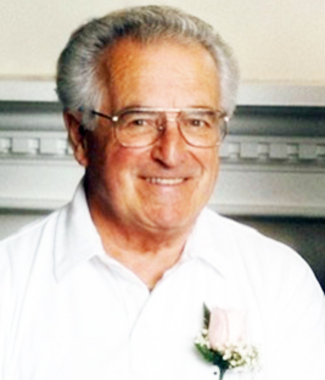 The League extends our condolences to Carroll Brochu's family and friends, and of course, to his credit union family at Changing Seasons FCU. Carroll was one of the founding members of the credit union, formerly Bangor Hydro FCU, and its first treasurer. Carroll played a significant role in charting the course for the credit union's success today.
(Obituary text as listed in the Bangor Daily News) – BREWER – This is my obituary. I wrote it myself.
I died December 13, 2019 at the age of 87. I had a good life. God was good to me and I lived much longer than I expected. My death is attributed to heart problems and things associated with that. I was fortunate to have been born into the large family of Gerard Brochu and Josephine (Breton) Brochu. There were eleven children of which two had passed away as infants. I was born on February 29, 1932, a leap year baby. What a great birthdate.
I attended schools and other educational facilities in the Bangor-Brewer area. While in high school I met Marie Joan Godfrey. We were married on May 17, 1954. We spent fifty-one years together. We were blessed with four children. Katherine who resides in South Carolina, Robert of Bangor, James of Glenburn, and Mark of Brewer. No one had greater children and I am proud of each of them and loved them dearly.
I was called into the service of our country during the Korean Conflict. I served with honor and then returned to the local area. I was employed by the Penobscot Hotel and worked for the local electric company for thirty-seven years before retiring. I was associated with many people while performing my daily tasks and I appreciated my relationships with each and every one of them. Thank you to all. To all my friends and associates and especially my family members I wish to say GOOD BYE. I am sure we will meet again. Until then, please think of me once in a while and maybe a prayer would be in order. Thanks.
Carroll's children would like to add:
Carroll was a fourth-degree member of the Knights of Columbus. He was also a member of the 3177 Eagles, Brewer and BPOE Elks, Bangor. Carroll served as chairman of the Board of Assessment Review for the City of Brewer for many years. Carroll was a very talented woodworker; people came from near and far to purchase cribbage boards that he made in his work shop.
Surviving are four children, Katherine Chapman and her husband, Stephen, of Charleston, S.C., Robert Brochu and his wife, Patty, of Bangor, James Brochu and his wife, Robyn, of Glenburn, and Mark Brochu and his wife, Christine, of Brewer; grandchildren, Andrew and Nicholas Chapman, Nicholas Brochu, Kylie and Cody Ramsey, Josiah Brochu, Autumn Kane, Joshua Blanchard, Emilee (Nicholas) Robertson, Linsay and Cassandra Brochu; nine great grandchildren; three sisters, Frances Faucher of Groton, MA, Patricia Ruth and her husband, Richard, of Milpitas, CA, Joyce Poulin and her husband, Gary, of South Weymouth, MA; three brothers, Richard Brochu, John Brochu and his wife, Melanie, and James M. Brochu, all of Brewer; many nieces, nephews, cousins, Godfrey in-laws, and a very special friend Mary Kiley.
In addition to his wife of 51 years and his parents and infant siblings, Carroll was predeceased by a sister, Charlene Thom; a brother, Michael Brochu and a grandson Michael W. Chapman.
Family and friends may visit 4 – 7 p.m. Friday December 27, 2019 at Kiley & Foley Funeral Service, 69 State St., Brewer. A Mass of Christian Burial will be celebrated 10 a.m. Saturday December 28, 2019 at St. Teresa Catholic Church, South Main Street, Brewer. Interment with military honors will be at Mount Pleasant Cemetery, Bangor. Immediately following services, family and friends are invited to the parish center for continued fellowship and refreshments.
In lieu of flowers, donations can be made to St. Paul the Apostle Parish, St. Teresa Catholic Church, or Winterberry Heights, C/O Family Dinner Night, 932 Ohio Street, Bangor, Maine 04401.