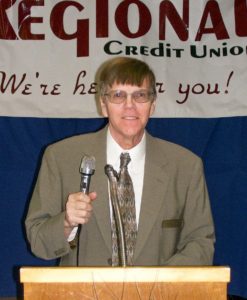 The League joins Sabattus Regional CU in extending our condolences to the family and friends of Roger Bouley. Roger passed away on May 22 after a long and courageous battle with cancer. He has served on the credit union's board since 1999.
"Roger rarely missed a board meeting—in fact, he attended our most recent in-person meeting in March," said Tiffiny Stewart, CEO at Sabattus Regional CU. "His time spent on the board has left a lasting effect. He was always an advocate for our membership, but especially our employees. He truly cared for the well-being of our team."
Roger was a man of depth, knowledge, and humor. After serving in the U.S. Navy and Army, he pursued his college degree. In 1999, Roger interned at Sabattus Regional CU and earned an Associate's Degree in Computer Science. Later, Roger became a bus driver for RSU 4 until his retirement.
"As we reflect on our time with Roger you will hear numerous employees share their stories and memories," said Stewart. "Many say he loved to jokingly give you a hard time, but only if you could give it right back. Others remember his incredibly creative mind and numerous inventions. All say he had a warm heart and smile that could light up a room."
We extend our thanks to Roger for his 20+ years of dedicated service and advocacy to Sabattus Regional CU. Our thoughts are with his wife, Suzan, and the rest of his family.