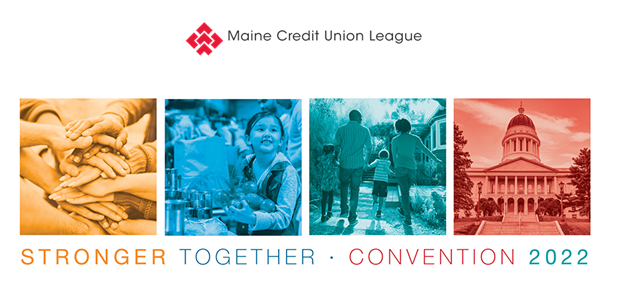 We could all benefit from a big dose of positivity, some encouragement, and an energized plan of action for moving forward. Look no further than the League's 84th Annual Convention, where we will demonstrate the power of our collaboration and how credit unions are stronger when we work together.
Registration deadlines are fast approaching! Register before April 22 to join us in Portland at the Holiday Inn By the Bay on May 13 and 14. For those wishing to attend remotely, the deadline for a virtual registration is May 9. Click here to register your credit union and to see a complete list of Convention details.
Keynote Presentations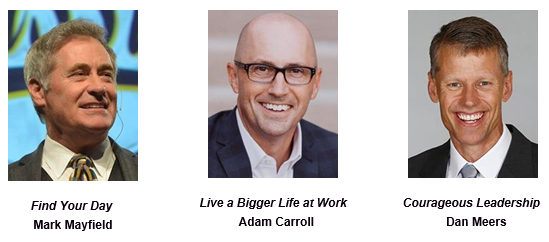 This year's keynote speakers have something in common: their presentations will provide inspiration, insights, and an emotional lift at a time when we could use a boost. Together, you'll hear stories and learn strategies that will give you a new perspective about your life, your challenges, and your plans going forward.
Find Your Day | May 13 at 9:00 am
Perspective. It's a key to survival. And during times like these, when the challenges of the pandemic seem never ending, perspective is vital for our personal wellbeing. In this inspiring and humorous presentation, Mark Mayfield will discuss his personal experience with gaining perspective in a difficult time, then will provide you with valuable insights and skills that you can use to manage your stress, change your daily behavior, and reset your baseline for happiness and success. Don't miss this unforgettable session and Find Your Day!
Build a Bigger Life at Work | May 13 at 11:45 am
In today's frenzied pace, our lives tend to be consumed with people, activities, and things that don't always make our lives feel bigger, but instead, much, much smaller. The life you most desire is within reach, but only if you dare to ask bigger questions, have bigger plans, and trust that you are the architect of your life starting today. This fast-paced, interactive session with Adam Carroll will have you laughing, learning, and yearning to make small but significant changes daily. You'll make intentional plans for your morning, your productive hours, and your family time that will help you build a bigger life. You'll take away strategies, and a mindset for living a life that makes you and those around you better. Your credit union environment will be buzzing about this for months to come.
Courageous Leadership: Living a Life of Influence | May 14 at 9:00 am
On November 23, 2013, Dan Meers came within inches of losing his life while practicing a bungee jump and zipline stunt at Arrowhead Stadium, home of the Kansas City Chiefs. What Dan anticipated being the thrill of a lifetime ended up being the spill of a lifetime. The stunt went terribly wrong. Miraculously, Dan survived. He spent nine days in the hospital and got some really big scars. Dan smiles when he says, "Scars are just tattoos that come with a cool story." During this powerful presentation, Dan shares his incredible story and the important lessons that he learned about leadership and life during his long road to recovery.
Questions About Convention
If you have questions about Convention or if you need assistance registering your credit union, please email Linda Scott, League Conference & Event Manager, at lscott@mainecul.org.