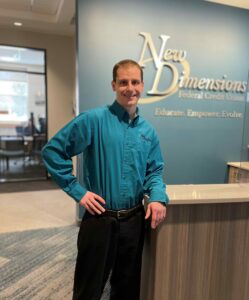 New Dimensions FCU is pleased to announce that Kyle O'Rourke is the credit union's new Commercial Loan Officer. O'Rourke has years of lending experience, having previously worked as a Commercial Loan Underwriter and Mortgage Loan Officer. His goal in his new position is to help as many small business members as he can.
"I am truly excited to be working with local business members and being an integral part of their growth," said O'Rourke. "This is a tremendous opportunity and I am looking forward to diving in. Over my time here, this organization has shown me what it means to take care of our members and I am proud to be part of the team."
When O'Rourke is not at the credit union, he enjoys the beach and sitting outside by a campfire. He resides in Waterville with his dog, Molly.
"I am excited to promote Kyle to the Commercial Loan Officer position at New Dimensions FCU," said Ryan Poulin, CEO at New Dimensions FCU. "His passion, experience, and dedication make him the right fit for our business members."