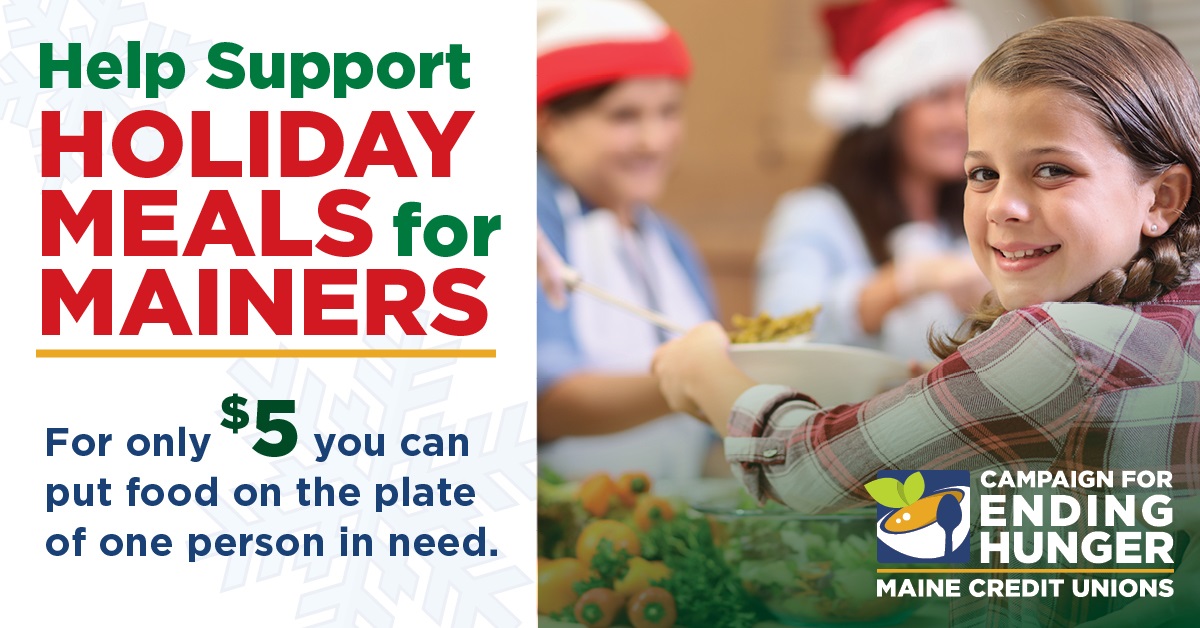 The holiday season is fast approaching. While this time of year is typically considered to be a festive one, for individuals and families who are food insecure, it can be stressful.
2021, much like 2020, has been hard on many Mainers. With the pandemic still lingering on and our 2021 Campaign for Ending Hunger fundraising coming to a close, let's come together one more time this year to help feed as many people as possible during the holidays. Throughout the months of November and December, the Campaign will be encouraging people to donate $5 (or more) to help feed a hungry Mainer in their community.
To raise awareness about the Holiday Meals for Mainers fundraiser, the League will be making a targeted push to promote this initiative through earned and paid media. We hope you will help us by amplifying these efforts locally in your branches and online.
If your credit union would like to participate, the League has created several assets you can use to advertise this effort and raise dollars—money which goes toward your credit union's 2021 Ending Hunger fundraising total. These materials can be found on the League's website at https://mainecul.org/community-outreach/campaign-ending-hunger/holiday-meals-for-mainers. If you need additional assistance, please email Jen Burke, League Public Affairs & Communications Manager, at jburke@mainecul.org.
There is no better present to give than the gift of food to someone in need. Together, we can make the season brighter for our neighbors and communities.