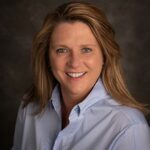 Credit unions in Maine who don't already know CUNA Mutual Group's Charlyn Delano now have an opportunity to connect with her. She recently stepped into the role of Account Executive, taking over for CUNA Mutual Group's Jeff Pierce, who retired at the end of 2021.
Delano has a wealth of credit union knowledge and experience and is ready to put her expertise to work for your credit union. She joined CUNA Mutual Group in 2006 as a Lending Protection Manager, and in 2008 transitioned to the role of Lending Sales Specialist. In both positions, she focused on helping credit unions grow loan opportunities, generate revenue, and reduce losses. From 2013 through 2020, Delano served as an Account Consultant. For the last year, Delano has served as Account Executive to credit unions in the Midwest. During her tenure, she has twice been awarded with a President's Council designation, an honor CUNA Mutual Group reserves for top sales performers.
Active in the credit union movement since 1991, Delano also has a strong background in lending with more than 15 years of credit union experience. She spent more than a decade working in collections and has a deep understanding of ancillary loan products and the value they add to both member relationships and loan portfolios.
Delano currently resides in Maine, where she enjoys outdoor activities such as golf, gardening, and boating. She also volunteers for the American Red Cross.
"As a lifelong Mainer and supporter of the credit union movement, I look forward to helping credit unions here achieve their strategic goals," Delano said of her new opportunity.
Delano attended the University of Maine at Augusta, and has received certificates from the American Institute of Banking for Consumer Lending and Principles of Banking. She also holds a certificate from Consumer Credit Counseling on Budgeting and Credit. She is a Notary Public and maintains Life & Health, Property, and Casualty licenses.
To connect with Charlyn, credit unions can email her at Charlyn.Delano@cunamutual.com or call 800.356.2644, Ext. 665.4878.