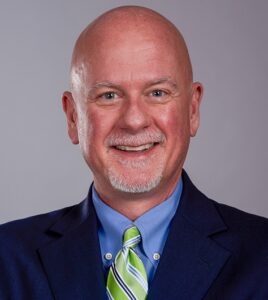 Exceptional credit union CEOs not only strengthen our movement in Maine, they help promote the credit union difference nationally. To recognize an outstanding CEO in our state, the League presented Evergreen CU's Jason Lindstrom with the prestigious James M. Gratto Award during the Annual Convention.
Throughout his credit union career, Jason has been a strong advocate for credit unions. He is a graduate of the Western CUNA Management School, a Credit Union Development Educator (CUDE), and is a past Filene i3 participant. He also has served on CUNA's CEO Council Executive Committee.
In Maine, he acts as the President of the Alex Ferguson Chapter of Credit Unions and is on the League and Synergent's Board of Directors. As part of his service to the Board, Jason chairs the Technology Services Committee. He is a strong supporter of CULAC and frequently participates in governmental affairs activities like the CUNA GAC and Hike the Hill. Jason also is deeply committed to his community and is a volunteer for the Animal Refuge League of Greater Portland.
Since taking over as Evergreen CU's CEO in 2016, the credit union has experienced substantial growth. He led the regulatory initiative which allowed Evergreen CU to extend its reach into York County and its asset size increased from $270 million to $470 million! He also helped the credit union successfully navigate the COVID-19 pandemic by establishing new work from home policies for staff, advising employees about everchanging state and national guidelines, mandating new technology, and researching peer activity nationwide to develop the best course of action for the credit union, its members, and employees.
As noted by his team in his nomination, "Good leaders come in all stripes, but the best must offer a very human side that exhibits compassion, understanding, and empathy for those in his charge. Jason is a very genuine and personable human being that has reaped tremendous appreciation from all staff. There is a shared sense that he cares about every employee and is willing to allocate resources toward all employees' individual wellness and success."
In addition, Evergreen CU has been recognized as a Best Places to Work in Maine business for the past five years.
"Jason is deeply deserving of this award," said Todd Mason, President/CEO of the Maine Credit Union League. "He has earned the admiration of his peers, staff, and members for his leadership and willingness to go the extra mile. Whether that's traveling to Washington, DC, to meet with our congressional delegation or sitting down with a member to help them improve their financial situation, he works tirelessly on behalf of others. Jason epitomizes the People Helping People philosophy and I'm very pleased he is receiving this special recognition."
On behalf of the League and all Maine credit unions, congratulations on this achievement!