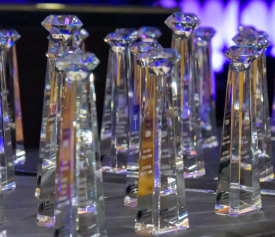 Nothing shines as bright as a diamond. Reward your hard work with some bling by entering for a chance to win a CUNA Marketing & Business Development Council Diamond Award. With 36 categories to choose from, don't miss your chance to take home an honor from one of the most prestigious credit union industry competitions.
The Diamond Awards recognize and reward creative excellence and outstanding marketing results. Credit unions, leagues, associations, and CUSOs may apply but submissions are due by January 17, 2023 (11:59 pm CT). Winners will be notified in February and those entries will be posted on the Council's website.
To enter, complete and submit the online entry form. It is highly recommended that all entrants review the tips, eligibility, and rules before beginning their application. These items can be found in the 2023 Diamond Awards entry packet.
If you have general questions about the Diamond Awards, please email diamondawards@cuna.coop, or call 1.800.356.9655, ext. 4018.