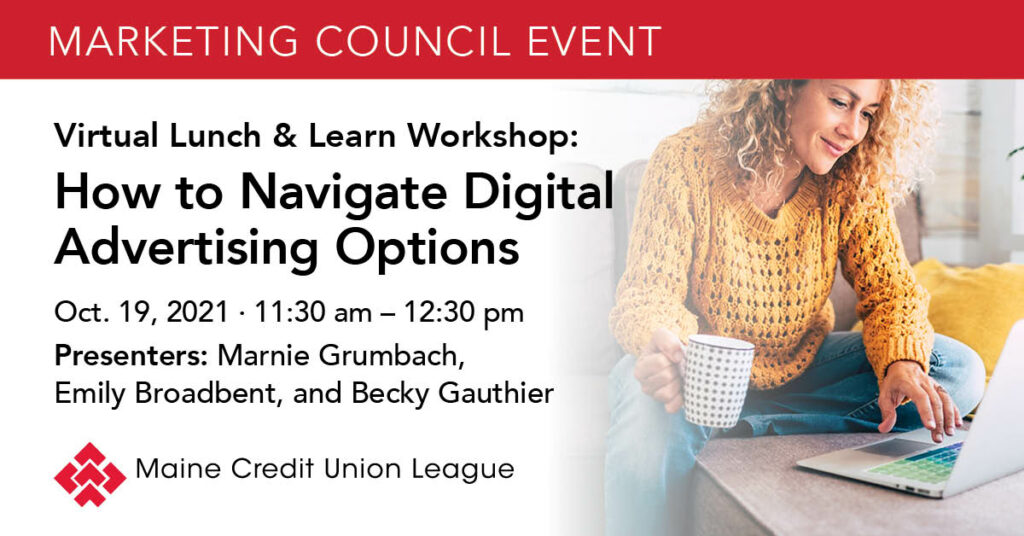 The Maine CU Marketing Council will be hosting a virtual lunch and learn session on Tuesday, October 19, from 11:30 am-12:30 pm featuring Marnie Grumbach, Emily Broadbent, and Becky Gauthier of fluent imc, an integrated marketing communications agency. This event will be our last workshop of the year!
Register to participate by visiting the League's website. Participants will receive the Zoom meeting details prior to the event. There is no cost to attend, however, your credit union must be a member of the Marketing Council to participate.
About the Session: How to Navigate Digital Advertising Options
It's impossible to open your laptop or turn on your phone these days without being served various forms of digital advertising. From Google AdWords to social advertising, to programmatic ads, pre-roll, retargeting, native ads, and sponsored content…the options, the terminology, and the costs can be difficult to navigate! On top of that, the technology is changing nearly every day, making a murky space almost impossible to keep up with.
This virtual workshop will:
Provide a brief glossary of the terms relevant to digital advertising;
Discuss whether digital ads are the right choice for branding vs. lead generation; and
Provide tips and checklists for developing a simple, cost-effective campaign to maximize an entry-level budget.
Attendees are encouraged to read Marnie Grumbach's Mainebiz column, "How to Plan and Launch a Digital Advertising Campaign," prior to the session.
About the Presenters: Marnie Grumbach, Emily Broadbent, and Becky Gauthier
Marnie Grumbach, Director of Strategy: Marnie specializes in professional services, B2B marketing, communications, and public relations. She founded fluent imc in 2012 to help clients create and implement effective integrated marketing and communications strategies. A problem-solver by nature, Marnie loves both the art and science of integrated marketing. She also is an experienced copywriter.
Emily Broadbent, Account Manager: Emily has worked with Maine-based clients ranging from hospitality to healthcare. She views working in public relations as a unique opportunity to help clients share their stories with the world. Emily is passionate about independent business and sits on the board of Portland Buy Local.
Becky Gauthier, Digital Advertising Specialist: Becky has worked in various agency environments since 2007. She has a diverse background in social media, digital advertising, email marketing, and media buying/planning. At fluent imc, she assists clients with digital ad strategy and execution, as well as optimizing campaigns across several digital platforms including Google Ads, Facebook, and more.