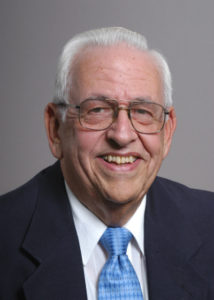 Former League and Synergent President/CEO Ted Desveaux was laid to rest Monday, being remembered as a credit union pioneer, loving husband, father, grandfather, and great grandfather, as well as a contributor to his church and community. Ted passed away on November 21 after a short illness.
Ted's distinguished credit union career included founding several credit unions, serving as the president of the Association of CU League Executives, many CUNA appointments, and national and international travel to promote credit unions. He began his career in the early 1950s in Waterville as an organizer and treasurer of St. Francis de Sales FCU. Ted later managed Augusta Pulp and Sulfite FCU (now Capital Area FCU) while serving on the League board from 1960-1964. In 1964, Al Ferguson hired Ted to serve as a field representative, leading to his appointment as the League's third managing director in 1970. In Ted's final President's report to Maine credit unions he stated: "I have had the privilege of meeting many great people from all over the world. No matter where they are from, credit union people are the greatest and especially here in Maine."
After leaving the League, Ted co-authored A History of the Maine Credit Union Movement with fellow Casco board member John Zerillo and continued to serve as a volunteer at Casco FCU and Coast Line CU, retiring from their boards in 2017.
"Ted joined the Board at Coast Line in 1992, shortly after his retirement from the League," shared Coast Line CU CEO Matt Griffiths. "At the time I wondered how our relationship would unfold, as he was an industry veteran with broad experience from the local to international level, while I was new to the CEO position, without much credit union experience, trying to turn things around at a struggling institution. Ted proved to be a great advocate for Coast Line's members and a knowledgeable mentor for me. He transitioned easily to the role of a director and was very gracious as he shared his expertise with our team. Ted's support of new initiatives at the credit union was key to getting us to where we are today. At Coast Line he is remembered for his broad knowledge of credit union history, his passion for helping members, and his love of dessert."
Katie O'Brien, EVP & CFO at Casco FCU remembered Ted as "a valuable asset to our credit union; bringing both historical and forward thinking ideas to each Board meeting, always mixed with humor."
When Ted began his career at the League, there were only 150,000 credit union members in the state and a handful of League employees. When Ted retired from the League, that number had grown to over 481,000 members and 81 League/Synergent employees. Ted was instrumental in the introduction of data processing, printing, check processing, card services, and statewide advertising to Maine credit unions through the establishment of MECUL Services Corp. (Synergent). Credit union volunteers, employees and members who knew Ted over the years, recognized his overwhelming commitment to the credit union philosophy and his commitment to keep them strong.
Ted's full obituary can be found here.