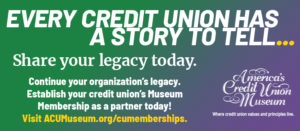 Is your credit union a member of America's Credit Union Museum? In addition to celebrating the remarkable efforts of the people who built the credit union movement over the past 100 years, the Museum plays a leading role in documenting today's achievements while helping to prepare credit unions for upcoming challenges.
If you aren't already a member, consider joining today! Benefits include:
Quarterly newsletter sent to an unlimited number of staff;
Special invitations to exhibit previews;
Advance notice of museum events;
A print of the first credit union charter;
Recognition on the museum's social media platforms;
Recognition with organization profile on the Supporters page of the museum website;
Unlimited access to the CUNA Research Center Library;
Unlimited use of conference space (subject to availability); and
Discounts on the use of the virtual meeting and strategic planning conferencing system (subject to availability).
Visit the Museum's website to learn more and register for membership.