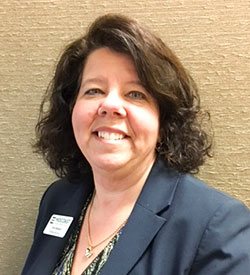 Congratulations to Tena Wallace, Midcoast FCU's Thomaston VP Branch Manager. She is this year's recipient of the Diane L. Oceretko, People Helping People Award.
This award is particularly meaningful for the Midcoast FCU team, as it was created to honor the memory of Diane Oceretko, a Midcoast FCU employee who passed away from cancer in 2002. Diane embodied the People Helping People philosophy through her commitment to volunteering and public service—just like Tena does today!
Tena has been active in her community for many years. She plays an instrumental role in Knox County through her commitments to rotary organizations, chamber events, scholarship committees, and the annual Rockland Lobster Festival. Additionally, she serves as a Salvation Army bell ringer—a position she has held for ten years.
"Tena's commitment to her community is so deserving of this recognition," said Joseph R. Gervais, President/CEO at Midcoast FCU. "From the Maine Lobster Festival and Rockland Rotary, to the AIO Food Pantry and Salvation Army, Tena has given countless hours of her time and touched so many lives. Diane was a longtime Midcoast employee and I am so proud to have Tena celebrated in her honor for her efforts." 
Tena is a tireless advocate for ending hunger. She joined the League's Social Responsibility Committee and has not only contributed to statewide Campaign for Ending Hunger initiatives, but also spearheads multiple efforts at her credit union and in her community. From packing over 18,000 meals for hungry people in need, to running raffles, and establishing a credit union CLYNK account to support fundraising efforts, Tena does it all.
In her nomination form, Tena's colleagues stated, "Tena is more than deserving of the Diane L. Oceretko award. Tena has been a dedicated volunteer and active community member for over 35 years. Since joining the credit union in 2018, she quickly became the face and spirit of Midcoast FCU, exemplifying our core values. Her dedication to our members and our community can be felt throughout the organization and community."
Thank you, Tena for being a shining example of our credit union People Helping People philosophy!