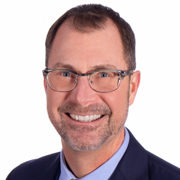 Thanksgiving is one of my favorite holidays. It serves as a perfect reminder to acknowledge what we are grateful for. In the hustle and bustle of our everyday lives, we can easily lose sight of the little things that have a meaningful impact. Too often we forget to say thanks when appreciation is due.
With COVID-19 still very much impacting all facets of our lives, thank you for remaining a constant beacon of hope for your members and to the communities you serve. I know it hasn't been an easy journey. You've watched your members, colleagues, and loved ones face challenges that were simply unimaginable 20 months ago. Despite it all, your credit union has persevered and has effectively carried out our shared People Helping People mission. While I'd like to think the worst is behind us now, uncertainty remains. One thing I know for sure is that your members and our movement can count on you no matter what, just as you can continue to count on our League to help you every step of the way!
I wish you and your families a very happy and healthy Thanksgiving. Please know, when I share what I am thankful for at my own table, I will recognize my incredible staff at the League and Synergent, and everyone at your credit union. Together you all make this state we call home a great place to live, work, and gather with those we hold dear to our hearts.