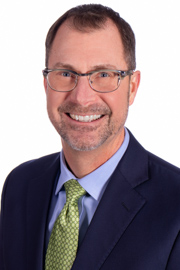 Let me begin by saying I won't steal any of Robert Caverly's thunder by addressing Tuesday's election results. Robert, our Vice President of Governmental Affairs, will be providing an important election recap with Trey Hawkins, CUNA's Vice President of Political Affairs, at our upcoming Credit Union Town Hall on November 9. (If you don't have the Zoom link for this meeting, please email Linda Scott.) With Election Day now behind us, I want to express my thanks for your engagement in the political process. I also want to provide a special thank you to our Governmental Affairs Committee and the League's Board of Directors for their guidance and support, especially of our endorsement process.
Support during an election cycle comes in many forms. It includes your contributions to CULAC. It also extends to your efforts with candidates themselves. Several credit unions hosted "socially distanced" candidate visits. We also have numerous elected officials serving on credit union boards or they have some other direct connection with credit unions. A few of you or your family members even threw your own hats into the ring for local positions, such as school boards and committees.
As we look forward, please continue to stay involved. Remaining engaged helps us demonstrate the strength of our credit union army of advocates. Provide your thoughts where legislation or regulation can be improved. Join a board or become active in an organization you care about. "Hike the Hill" when we make in-person or virtual visits with our elected officials or find your own way to participate. Sometimes it is as simple as proudly letting others know you work at a credit union that helps us raise awareness of the impact we make in communities across the state.
Having the right legislative and regulatory powers heavily influences our ability to help improve the financial lives of our members and fully serve them. Your political involvement is critical to getting, keeping, and improving those powers.  So, thank you again for all that you have done and all that I know you will continue to do.