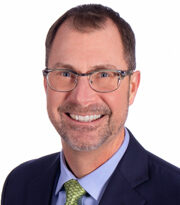 There only are a handful of days left in the year, and I want to take a moment to acknowledge the tremendous impact your credit union has made on the lives of your members, your employees, and on our state over the past twelve months. Last year's holiday season was unlike any other. When we entered the new year, distanced from our friends and family, we did so with the hope that the pandemic would be far behind us by the end of 2021. Unfortunately, COVID is still impacting all of us and providing lingering uncertainty about what lies ahead.
Through all the ups and downs of the past year, your credit union has remained steadfast in your commitment to carry out our shared People Helping People philosophy. There are so many examples to offer—from providing emergency or Paycheck Protection Program loans, to offering financial education or remote digital banking through innovative online tools. Whether you are combatting hunger in your communities or contributing to our state's credit union workforce—which is nearly 2,200 people strong—you are moving our state forward and helping Mainers achieve financial security. In these challenging times, I know it hasn't been easy.
With my gratitude overflowing, let me extend to you my best wishes for a happy and healthy holiday season. I'd be remiss if I also didn't encourage you to make safety a priority as you celebrate. The Center for Disease Control and Prevention has outlined some ways you can minimize your COVID-19 risk in the days ahead. These important tips should be kept in mind even after the holidays pass to help keep you and those around you safe.
While I can't predict what 2022 will deliver, I am certain your credit union will continue to provide value no matter the circumstance—not just for the people you serve, but for people throughout the state. Thank you for everything you have done this year and for all that you will do in the future.
Merry Christmas and Happy New Year!