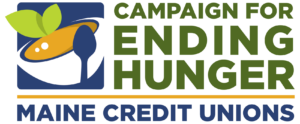 With the annual Ending Hunger Campaign Virtual Celebration less than one month away, the League is working to tally up the Campaign's 2021 fundraising results and summarize each credit union's individual efforts. If your credit union has not yet submitted its Ending Hunger funds to the League, please do so at your earliest convenience and email Jen Burke, League Public Affairs & Communications Manager, at jburke@mainecul.org with your year-end total.
The League hopes the Campaign will again be supported by every credit union in the state. 100% participation in this effort demonstrates our movement's deep commitment to combat hunger in Maine's communities.
During our virtual event on February 9, the Campaign's overall fundraising results for 2021 will be announced and the top fundraising credit unions will be recognized. The event also will feature special guest speaker Nirav D. Shah, MD, JD, Director of Maine's Center for Disease Control and Prevention. There is still time to register to attend. Please visit the League's website to secure your virtual spot today. There is no registration cap for this year's event.