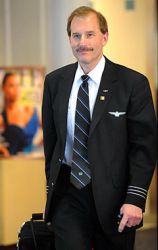 Living up to the theme of the 2017 Maine Credit Union League Annual Meeting & Convention, Maine's credit unions - A World of Opportunity, convention-goers will have an opportunity to participate in a world of events and activities when the Convention takes place May 19-20, at the Holiday Inn by the Bay in Portland. (Pictured l-r are Captain Chesley Sullenberger and Co-Captain Jeff Skiles recreating their time in the cockpit.  Skiles, who was part of the Miracle on the Hudson plane landing, will recount his experience and lessons learned as the Closing Speaker at the 2017 Maine CU League Convention happening this month).
With overall attendance at 750 and growing, interest in being a part of this year's event is as strong as ever.  "We have a great program that offers time for learning, entertainment and, of course, for attendees to catch up with friends and colleagues from throughout the Maine CU System.  We also have a new Friday Breakfast Buffet to welcome attendees.  From start to finish, this year's Convention has a packed schedule and agenda," stated Cheryl Lancaster, SVP of Member Services at the Maine CU League, adding, "There is still time to register, and we expect to have registrations right up until the Convention starts."
Beginning with the Friday Breakfast Buffet from 7:15 to 8:15 a.m., the rest of the Convention schedule is as follows:
May 19, 2017:

8:00 a.m. - Exhibits Open and Registration Begins

9:00 a.m. - Opening Speaker - Doug Nielsen - a former COO/Executive Director and Author.  Doug will discuss the importance of personal ownership in his presentation, "Take Life By the Helm: Creating the Ownership Advantage."  His speech will focus on seizing opportunities and creating an environment where individuals will have no excuses and no regrets, great advice for both work and personal success.
10:30 a.m. - Education Sessions -  Choose from one of two sessions that will be held concurrently in the morning and in the afternoon.  One session is with the highly-popular, Jim Bouchard, a renowned speaker, trainer and author, with a session called 8 Strategies for Effective Credit Union Leaders; The other session will be led by Crystal Jonas, a published author, international speaker and veteran, in a workshop entitled, Your Credit Union's Culture is Your Competitive Advantage.
11:30 a.m. - Attendee Lunch
11:45 a.m. - 79th Annual Delegates' Meeting and Luncheon
2:00 p.m. - Education Sessions
2:30 p.m. - CU Senior Management/Vendor Networking Reception
3:30 p.m. - Synergent Shareholders' Meeting
3:30 p.m. to 6:00 p.m. - Commuters' Refresh and Recharge Lounge
6:00 p.m. - Social Hour (Silent Auctions end)
7:00 p.m. - Dinner
8:00 p.m. - Awards Program
9:00 p.m. - Entertainment with Comedian Paul D'Angelo, one of the country's top stand-up comedians; followed by Craig Karges, an award-winning entertainer who has appeared on The Tonight Show, CNN, Fox News and more, who can make tables float, read minds, bend metal and more. 
Saturday, May 20, 2017:
8:00 a.m. - Breakfast Buffet
9:00 a.m. - Closing Speaker - Jeff Skiles - Co-Captain of U.S. Airways Flight 1549 (Miracle on the Hudson).  Jeff was there alongside Captain Chesley "Sully" Sullenberger in January 2009, when U.S. Airways Flight 1549 accelerated down New York's La Guardia Airport's main runway, loaded with 155 passengers and crew.  Everything was normal until birds hit the airplane and both engines failed.  Captains Sullenberger and Skiles made the decision to head to the only open, flat space available in New York City - the Hudson River.  As a result of their actions, all survived. Skiles will take attendees back to that historic day, and share lessons and insight that can be applied to other aspects of life.
Other notes of interest to consider about the 2017 Convention is extended bidding time for the two Silent Auctions happening at Convention.  Both the Silent Auction for the Maine CUs' Campaign for Ending Hunger and the CULAC Super 6 will be starting at 11:00 a.m. and ending at 6:30 p.m., to allow for more bidding opportunities.  Both will take place by the Main Ballroom area.
To attend any and all of the events and opportunities at the 2017 Maine Credit Union League Annual Meeting & Convention, please click here; email Susan Erlandson; or call Member Services at 207.773.5671.