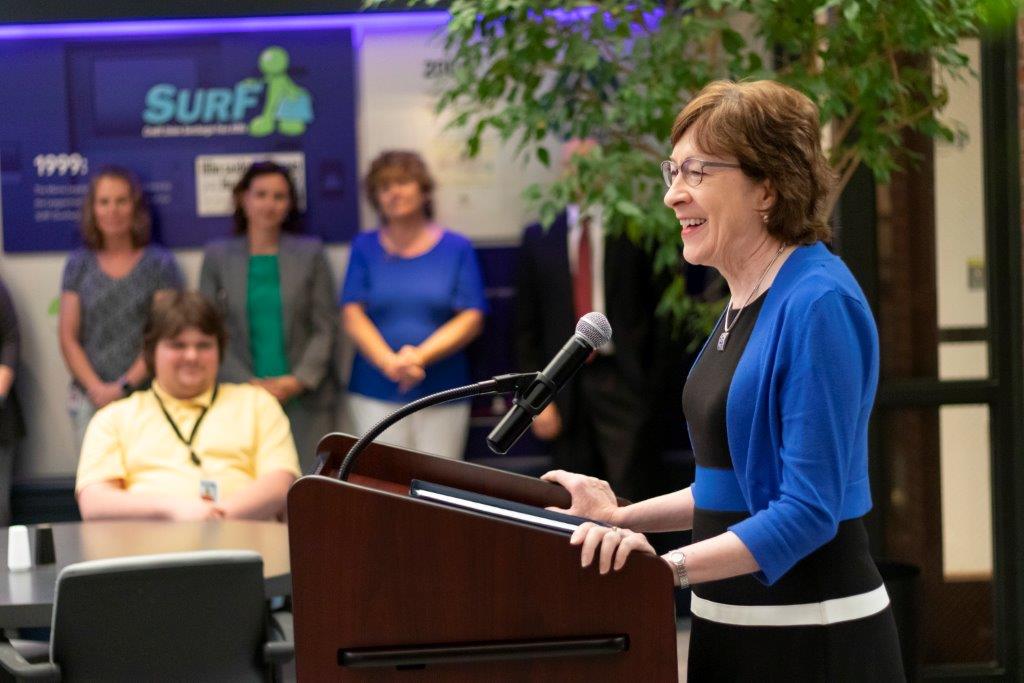 The Maine Credit Union League welcomed U.S. Senator Susan Collins (R-ME) to its Westbrook headquarters on August 6 for a briefing on data security. The meeting provided Senator Collins an overview of the security measures and technology Maine's credit unions utilize to protect member data and prevent financial fraud.
"We are pleased Senator Collins visited our League to learn more about what our credit union network is doing to safeguard our members' private information," said Todd Mason, President/CEO of the Maine Credit Union League. "Cybercriminals are becoming increasingly more sophisticated in their assaults against financial institutions, which is why we are investing a significant amount of time, money, and resources to protect member data."
During her visit, Senator Collins addressed League employees and discussed how she is working with her colleagues on the U.S. Senate Intelligence Committee to develop policies that tackle cybersecurity and protect our country. She also praised Maine's credit union network for its deep commitment to fraud detection and prevention, and noted the important work of Senior$afe, a training program that helps staff at financial institutions recognize the signs of elder financial abuse.
"Maine credit unions have long been valued partners of the innovators, job creators, and hardworking people of our state.  In addition, they have assumed a vital role as protectors of our most vulnerable friends, neighbors, and family members," said Senator Collins.  "I commend the Maine Credit Union League for hosting today's discussion and taking a proactive approach to increase cybersecurity.  It is a pleasure to work with them on this issue as well as our shared goal to protect seniors from financial fraud."
The visit is part of an ongoing dialogue between the League, Maine's credit unions, and Senator Collins on the topic of data security. In March, credit union representatives met with Senator Collins in her Washington, DC, office to thank her for her work on cybersecurity and data privacy, and encourage her to support a national approach to data security.
"Senator Collins is leading the way on data protection," added Mason. "She recognizes this is an issue that needs input from those of us on the front lines, and we are happy to assist her any way we can.  Doing so will keep our members better protected and is a shared priority."
Last year, the Senior $afe Act, legislation authored by Senator Collins, was signed into law.  It is based upon the first-in-the-nation program launched in Maine, with the League as a leading partner.  Well-trained credit union employees are effective in spotting and stopping financial scams targeting seniors.