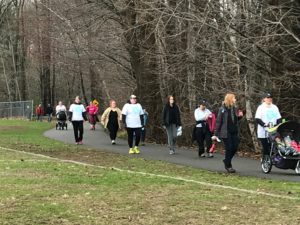 On April 27, community members in the greater Augusta area pulled out their raincoats, laced up their sneakers, and participated in Maine State Credit Union's annual Feed ME 5K Walk to raise money for Ending Hunger. This year's event was the 14th year Maine State CU has organized this fundraiser which brings together their employees, members, other credit unions, and local organizations working to combat hunger in their communities.
"Each year, our event has grown and so has the friendly competition," said Stacey Dow, Coordinator of the Ending Hunger Campaign for Maine State Credit Union. "We allow area organizations to raise money for their own ending hunger initiatives and there's a bit of a battle for the title of top fundraiser."
This year's event raised $54,838, but additional dollars continue to trickle in as local fundraisers finalize their donations. The North Monmouth Community Church and the Chelsea Food Bank were the event's top fundraisers and each organization will receive back what they raised.
"Our credit union is deeply committed to combating hunger here in Maine, which is why this event is important to our Maine State CU family," said Dow. "A great deal of planning goes into making our 5K a success, but it's worth it to ensure local families have the food they need to live healthy lives."
The walk, which is held rain or shine, runs along the Kennebec River Rail Trail, starting at Capitol Park; all ages are welcome.
"When we were setting up the event, it was windy and rainy, but by the time things got underway, Mother Nature decided to cooperate," added Dow. "Despite the less than perfect weather, we saw so many smiling faces. Everyone there was happy to be doing their part to help end hunger in Maine."
Next year's 5K will take place on Saturday, April 25, 2020.