January COVID Response Update – Survey Results
January 14, 2022 – Below are the results of the League's survey of Maine's credit unions to learn how credit unions are addressing the rapid increase in COVID cases caused by the Omicron variant. In addition, our most recent updates to the status of credit union lobbies can be found here. Please feel free to update your responses to either survey.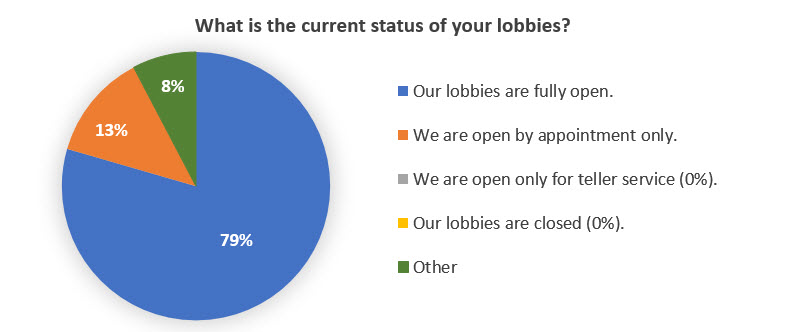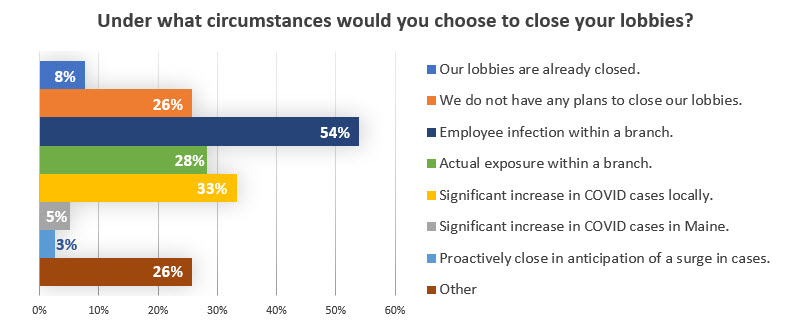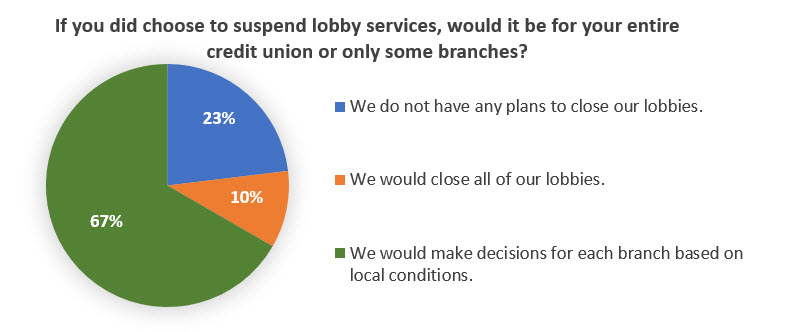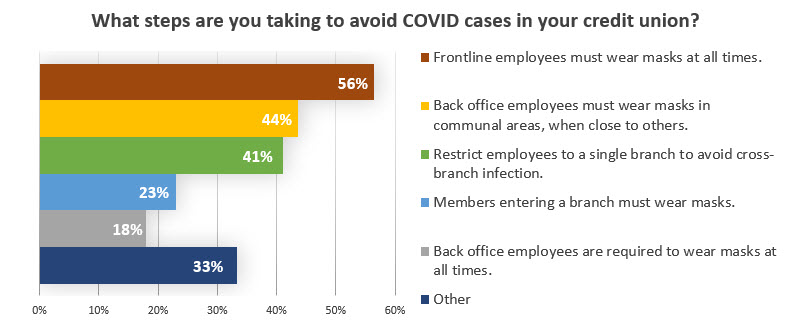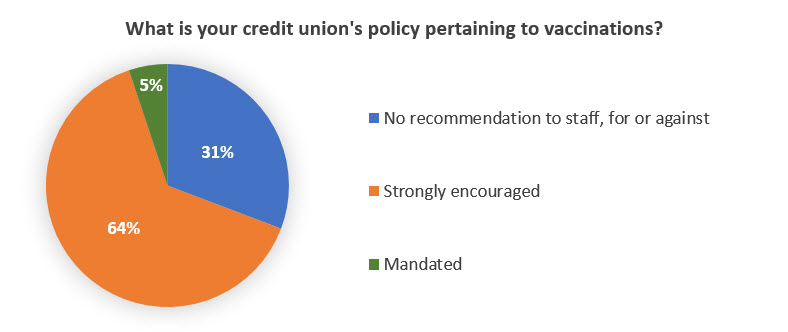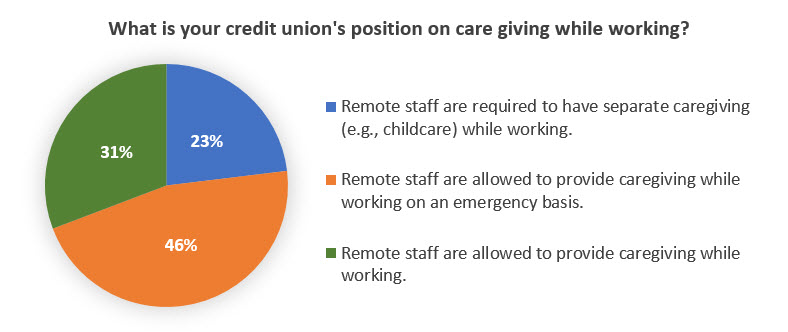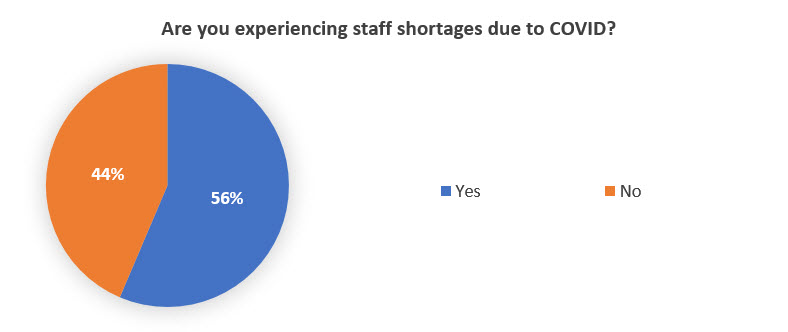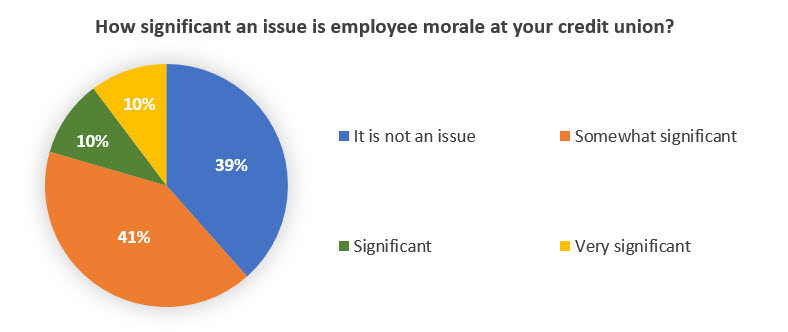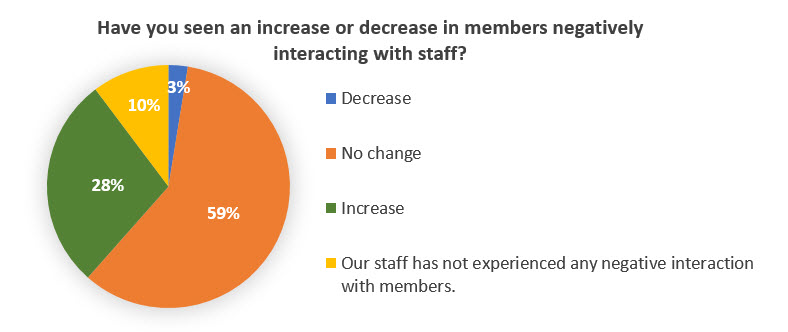 Written Responses
What is the current status of your lobbies? – "Other" responses:
One office is open, the other is closed due to lack of staff (only by appt.).
Our lobby in Waterville is drive through only.
Our lobbies are open if we have enough staff. We have had to close lobbies several times due to staffing shortages.
Our main office lobby is open, but our Patten office is closed.
Under what circumstances would you choose to close your lobbies? (Check all that apply.) – "Other" responses:
Staffing shortages, Governor or CDC mandate
Manager and teller level supervisors staffing difficulties due to day care closing, close contact outside of work, isolation, etc.
If lack of staffing is an issue
Lack of staff
Staffing issue
Multiple infections within a branch
Lack of staffing
Closing would depend on exposure, symptoms, and vaccination status of employees
It would have to be multiple in one location
The only way I can see us closing lobbies at this time is if we had so many employees out and we would be unable to effectively serve those entering our lobbies.
Comments on Lobby Services:
We have closed lobbies on a case-by-case basis due to staffing shortages.
Our current reality is adjusting to conditions at each location based on cases and staffing levels.
We only have one location.
We are a one location credit union. At this time we would only close our lobby if we had a staffing issue.
Our lobby in Patten has been closed throughout the pandemic.
If we close, it will be because we had a large number of infected staff that result in our inability to provide member service, and not necessarily based on local conditions.
We closed both branch lobbies in mid-December due to staffing shortages and staff members having to quarantine.
It is hard to make a global response at this time. Historically, if/when we closed or changed hours to branches it was done globally. However, an outbreak at one location may dictate different actions.
We only have one branch.
Our lobby traffic did not pick up to pre-COVID levels. Rarely are there more than 2-3 members in the lobby area at one time. Our drive through remains busy.
We are trying not to mix employees by sending them from office to office. We have had to shut lobbies down a few times because we did not have enough staff to operate a teller line as well as the drive-up.
We do not participate in shared branching.
What steps are you taking to avoid COVID infections in your credit union? – "Other" responses:
Employees who are not fully vaccinated are required to wear a mask.
We have plexiglass barriers between members and staff.
We are recommending masks for employees but have not yet mandated it yet.
Masks required at our location in Portland per city mandate.
We are requiring masks if not vaccinated.
We encourage employees to wear masks but it is not mandatory at this point.
All wear masks when out of work area or within 6.'
Regular cleaning of work areas and frequent hand cleaning.
Unvaccinated must wear mask all times; stepped up cleaning regime per hour.
Unvaccinated employees are required to wear masks.
Utilizing our two team model (remote and branch).
Members in Portland must mask due to city mandate.
No mask requirements.
Comments on Credit Union Staff:
This past week we had 3 positive cases on our teller line, our contact tracing shows they are not connected. This resulted in the quarantine of 10 people, nearly one third of our staff. We lost every single one of our tellers in our main branch plus other employees. All employees who were positive were fully vaccinated, two of them were boosted.
We do not have any remote workers.
Our staff have been amazing in dealing with very poor behavior from some members.
We are recommending and encouraging staff and members who are in our lobbies to wear masks. We have also continued to purchase and keep inventory of home COVID self-test kits if employees are not feeling well and want to test, but it's not required (just to have available).
We are keeping proof of vaccination and boosters for employees who volunteer a copy of their proof to HR. This allows us to determine any quarantine time if infected with COVID or if a close contact.
Regarding staff shortages – temporary vacancies due to having to quarantine either for COVID or being a close contact. Also experiencing more turnover than normal and difficulty finding qualified help.
Morale overall is not a problem; however, continued COVID issues do take a toll on everyone at some basic level.
Members have been in good spirits and respectful. I would never say we have not experienced "any" negativity; however not on a measurable scale
We continue to watch morale. A Dunkin Donuts (DD) run is done each Friday for all employees. Also, when we know we have a busy day coming up (1st and/or 3rd), we make sure to provide lunch as well. We continue to pay employees when they are out because of COVID.
Other General Comments or Questions:
We decided to close on Saturdays permanently.
We did experience staff shortages the three days before Christmas that resulted in drive-up only services. We returned to full lobby services the week after Christmas.
We follow the CDC guidelines.